MINK ELLIOTT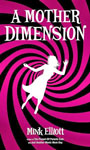 A Mother Dimension (2013)
Forty-something Kate is overly nostalgic about the past - the 1980s in particular - and daydreaming about the good old days is a way to escape her life as a wife and mother of three children. During a thunderstorm (yes, there's that generic chick lit time-travel device again) she is somehow flung back several decades. But instead of the era of shoulder pads and big hair, she finds herself in 1996, as a much skinnier twenty-something single woman living with her friend Georgia and her brother Steve. It's a time of World Cup mania, Blur vs Oasis and Kate being wooed by lads mag editor Tom. She knows only too well how he turns out to be a right cad, while her husband-to-be Seamus is dismissed by everyone as just another geeky IT guy. Kate soon finds that things are happening slightly differently this time round - or is it because her rose-coloured glasses are slipping for once? The story sometimes comes across as slightly disjointed between events and perhaps it would have benefited from one more strong, tight edit. But the mummy humour and pop cultural references are a treat.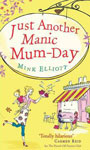 Just Another Manic Mum-Day (2012)
In this sequel to The Pissed Off Parents Club, Roxy is struggling to adjust to her new life in Sydney, Australia. After upping sticks from Britain with her husband Jack and their three-old-daughter Joey, things are about to become more complicated when Roxy discovers she's pregnant again. And there seems to be nowhere for a stressed-out mum to relax. Roxy - armed with her new-found friend Shoshanna - decides to set up a cafe called Just Another Manic Mum-day for new parents trying to find their feet. I'm not a mum but I laughed throughout this book and understood the worries Roxy faced every day. If you love books about groups, kids and friendships then this will tick all the boxes for you. Highly recommended - and I have to confess to loving the title. (KD)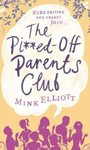 The Pissed-Off Parents Club (2010)
First-time mum Roxy is feeling a bit lost and lonely since she moved out of London to a Berkshire village with her partner Jack and baby daughter Joey. Jack is still commuting to the city for work and with both of them continually tired, arguments are the order of the day. Trying the usual mother-and-baby groups just doesn't work so Roxy forms her own - the Pissed-Off Parents Club - which meets sans kids at the pub. If you want a book about yummy mummies whose kids exit stage right immediately, hardly to be seen again, then this isn't the book for you. But if you're feeling fed up, and finding parenting harder than anything you've done before, then you'll enjoy joining Roxy's club.

---
---