NEW RELEASE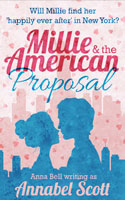 Millie and the American Proposal - Annabel Scott (2014)
This is the third book in a series, so many readers will be familiar with the charming main character. This story begins with Millie and her boyfriend, James, trying to cope with their long-distance relationship and his hectic work schedule. Their circumstances have definitely taken a toll on their relationship but they are both hopeful that things will return to normal once James moves back to London. Unfortunately, their happiness is short-lived as James reveals he has been offered an assignment in Singapore. He incorrectly assumes that Millie will quit her job and uproot her life to follow him, but Millie cannot face the thought of being a kept woman and she ends their relationship. When Millie is offered a position in New York City, she cannot say yes quickly enough. Some time away from her memories of James in a city she fell in love with years ago is exactly what she needs. However, her time in NYC does not come without complications. For instance, her ex-boyfriend Rob is newly single and the spark between them is still alive and well. Millie tries to maintain a friendship with both James and Rob,but that only confuses her more, and it isn't until one of them proposes that she can admit her true feelings to herself and the man she loves. In my opinion, this is the best book in the series to date. Annabel's writing is engaging and I found myself reading just one more chapter several times. I enjoyed catching up with Millie and her friends and seeing how their lives have changed over the course of the years and I was pleased to learn that a fourth book will be coming soon! (LB)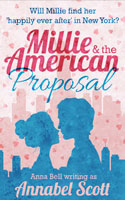 Millie and the American Proposal is the third instalment in Annabel Scott's series. The summary says: "Millie's boyfriend, James, gets offered a job in Singapore. He accepts, thinking that she'll give up her job and go with him. Only Millie gets offered a work secondment to New York which is too good an opportunity to turn down. When she arrives in the city, she soon discovers that she's not the only one new in town; her ex-boyfriend, Rob, is back, and he's separated from his wife. It's time for Millie to work out what she wants from life. She's got to decide whether she's Team James or Team Rob as she gets her very own American Proposal." Millie and the American Proposal is out in February 2014.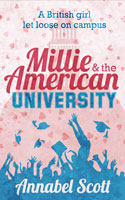 Millie and the American University, by Annabel Scott (aka our vey own Anna Bell) is the prequel to Millie and the American Wedding. The summary says: "Millie's always dreamt of being American, thanks to an obsession with US television shows. As the only English girl on campus, she realises that she could live her very own American dream: joining a sorority and bagging an all-American boyfriend. Only when Millie finds a friend in Kristen, she alienates Casey and Jen, the sorority girls who'd taken her under their wing. Millie discovers that Casey is not a woman to be crossed, and she soon finds herself living an American nightmare with her scholarship under threat, and the all-American boyfriend ending things before they really start."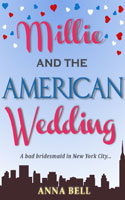 Millie and the American Wedding - Anna Bell (2012)
One wedding, one ex-boyfriend and seven bridesmaids - it's going to be the craziest wedding ever. Millie is happily living in London when unexpectedly she gets invited to the wedding of her long-lost friend Kristen and her one-night stand Joel. Millie has no intention whatsoever of being part of this wedding until she gets a call from the bride herself asking Millie to be her seventh bridesmaid. To attend the wedding, Millie has to fly to New York City which holds the secrets of her ugly past and forces her to face up to her ex-boyfriend Rob. As if this is not enough to make the wedding a dreadful experience, she has to put up with snotty maid-of-honour Collette who is determined to put Millie through hell. When I got my hands on this novel I couldn't wait to read it but I felt let down by the not-so perfect editing. The charm which was created in the first few pages failed to be sustained throughout. (SS)
Note: Anna Bell is a contributor to Chicklit Club but she does not personally know her reviewer.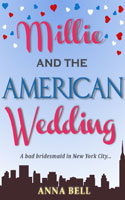 Chicklit Club reviewer Anna Bell is set to release her debut novel Millie and the American Wedding. The summary says: "Millie accidentally agrees to be bridesmaid at her long-lost friend Kristen's American wedding. Which to an outsider doesn't seem too bad; the wedding is in New York and comes complete with bachelorette party, rehearsal dinner and all those American traditions seen in the movies. But then you add to the equation that she's slept with the groom, and her ex-boyfriend (the only love of her life to date) is going to be the best man. And not only is he best man, but he's already married, and she's going to the wedding single. Poor Millie. As Kristen gets ready for the best day of her life, Millie gears up for the worst week of hers." Bell lives in England and writes weekly column The Secret Dreamworld of An Aspiring Author for Novelicious.
---
---