INTERVIEW
November 2013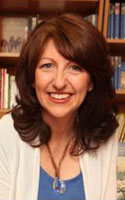 Michelle Jackson is the author of six novels, including her latest Six Postcards Home. She studied textile design and combines her writing career with working as an art teacher. She lives in Dublin, Ireland, with her family. (Interview by Angela Smith)
1. Tell us about your new book Six Postcards Home.

Six Postcards Home is a story about first love and the impact it has on two characters, Karen and Greg over a thirty-year period. Six postcards are sent to our heroine Karen over the course of the book and they appear at pivotal times in their lives. It starts in 1982 and follows the characters' lives through a host of trials and tribulations - their paths cross at different points but destiny seems to get in the way each time - as the plot develops it becomes clearer why things work out the way they do. The ending is surprising and not typical for a love story spread over this time.

2. You always use a number in your title, why is that?

It happened organically as my first novel was Two Days in Biarritz and my publisher asked if I had an idea for my next novel - I replied that I was going on a trip for Three Nights in New York and flippantly said that might be my new title - it was! So I had to put a One into the title for my third novel to complete the set and called it One Kiss in Havana. 4am in Las Vegas and 5 Peppermint Grove followed!

3. Your books also feature a travel theme. Are you a keen traveller?

I'm passionate about travel and enjoy seeing different places. This love of exploring new environments has led to my new venture into travel writing, I enjoy the research involved in visiting a new destination and record the tastes, smells, colours and pictures that I find with my camera and notebook wherever I go.

4. What is your favourite place of all the places you've visited?

I enjoy all my travels but Havana is very special and I love Hemingway so I particularly enjoyed visiting the Bodeguita del Medio and the Floridita when I was there. Cuba is an interesting country with incredibly talented people who create beautiful art, music and dance - I'd love to return someday.

5. Which book was the most fun to write?

I think 4am in Las Vegas was my most rewarding novel to write because Las Vegas is a fun place and I put a huge amount of research into the culture and history of the area and the Native American Indians before writing it. Most of my novels reflect holidays that I have had as all the locations actually exist and this helps me to give a sense of place to the reader. Vegas is fun and with plenty of twists and turns I hope 4am in Las Vegas has brought a smile to plenty of readers too.

6. If you could live anywhere in the world, where would you be?

While I adore to travel I'm actually a homebird and I love my home town of Howth in County Dublin and I wouldn't want to live anywhere else. It is a fishing village about thirty minutes from Dublin city and is a tourist mecca with lots of natural beauty. Many writers, musicians and painters have visited Howth and many live here too, this is why I usually mention Howth in my books. In Two Days in Biarritz and One Kiss in Havana a lot of the plot happens there.

7. What is the hardest part about writing a novel?

I don't find it difficult to write and each stage has its joys and rewards. The most tedious part is editing but I've been very fortunate to have Gaye Shortland as my editor for all my novels who started many great Irish writers off in their careers.

8. If you weren't writing, what would you be doing for a career?

I am also working as an art teacher in a high school for two days each week and this is a welcome change from the solitary life of writing- it also keeps me in touch the world of work and the youth of today. I trained as a textile designer when I left school and have been teaching art to all levels for over twenty years. I've also started travel writing for a variety of newspapers and periodicals - with two children and a husband also I've been very busy for the last few years!!!

9. What's the best book you've read recently?

I'm in the middle of reading Wonder by R.J. Palacio and although it is for children it is an amazingly poignant book that touches all ages.

10. What advice would you give aspiring writers who want to break into the industry but are too scared to put their work out there?

Go For It! The world of publishing is changing and it is a good time for publishers to find new talent through self-publishing sites. I would start by doing a writers course in a writers centre first or maybe start a writers group with some like-minded friends - the most important advice I have is to never give up and believe in yourself - if you enjoy writing it then someone will enjoy reading it!
June 2011
(Interview by Shirley Benton-Bailey)
1. Tell us about your books.

I have written three books for Poolbeg Press in Dublin and am in a contract to write three more. My debut novel was published in 2008 entitled Two Days in Biarritz. Only the first three chapters are set in France with the rest of the novel taking place in Dublin but the holiday theme sent me in a certain direction for my next two books which I hope to continue with my new novels. Three Nights in New York was my second novel and very much reflected the last days of decadence that came with the demise of the Celtic Tiger. My current novel is called One Kiss in Havana and is the first to be translated into different languages and in a way feels like a new beginning for me in the style and direction of my work. I am currently editing my fourth novel which is due for release in October and entitled 4am in Las Vegas.

2. What was your path to publication like?

On reflection I have been very fortunate and my writing career has developed quickly although it did not always feel that way as I was going through the process. I started to write seriously in 2005 and wrote my first novel in three months. I sent it out unedited, in hindsight like a lamb to the slaughter, and crossed my fingers wishing for that big break. Although I received a lot of interest and found an agent that wanted to represent me in the UK I did not get a publisher - one Irish publisher held the book for a year before finally deciding not to take it. At this point I could have thrown in the towel but as I had received interest and was determined not to give up so I wrote another novel. I sent three chapters and a summary in to Poolbeg Press in Dublin and received a letter three months later looking for the rest of the manuscript. That book was Two Days in Biarritz and I was ecstatic when Paula Campbell called me one grey October afternoon in 2007 and offered me a three-book deal. I think every author remembers that moment of utter joy and relief on hearing that you are going to be published.

3. How long does it take you to write each book?

It varies but the actual writing generally takes six months. The editing etc takes another three. The research and plotting and planning is ongoing - I never stop and have to read about the places that I visit. I also do interviews with local people living in the city and research books by authors who have an affinity with my chosen destination also. It is a process that is personal to the way I work and means that I am always either writing, researching or editing!

4. How would you describe your writing style?

Organic. I very much let my characters lead the way and I don't get knocked around when they throw something at me as I am prepared to change constantly with the plot and the character development. This keeps me, and hopefully the reader, interested.

5. What do you think is your unique selling point as a writer?

I like to leave a reader happy and fulfilled when they have finished one of my books. As they are all set in different locations and travel is one of my themes I like to offer escapism and they are the sort of book that suit being read by the pool on holiday or on the beach. I think they also transport a reader in the depths of winter while they are sitting by the fire - they can imagine they are away in sunnier climes.

6. Which character (in any of your books) do you think you're most like?

Probably Kate in Two Days in Biarritz as she was my heroine in my first novel and I think most authors will agree that your first book is very special. It was the most cathartic of my books also and I would probably have to say Kate is the character most like me. I can understand her because she is an artist which is very much the base from where I started my creative journey.

7. What are your thoughts on the chick lit label?

I think that many of the current books in this genre will be seen as wonderful documents of social history in the future. Art is how we learn about the past, record the present and express ourselves as human beings. Chicklit is just another form of art but because it is generally written by women it is packaged in a certain way. I would consider some male authors' work as chicklit in style but because it is packaged in a more serious cover it is branded and marketed differently. Jane Austen was the ultimate chicklit queen of her time and although she was not considered good enough by Trinity College students in the early 19th century she has stood the test of time and is one of the most popular authors ever.

8. What's been the biggest lesson you've learnt about publishing?

That there is a huge amount of time involved in producing a book. Once it is at first draft stage there is still so much to be done before you get a copy of it into your hands.

9. Describe your career as an author in three words.

Creative, cathartic and fulfilling.

10. What's the best piece of writing advice you've ever received?

Get an editor! It is so important to get your work edited and remember that every author needs their work edited no matter what genre they are working in. A fresh pair of eyes gives a new and improved perspective on your work and it is important to be able to take constructive criticism when it is given.

11. How do you see the future of publishing evolving over the next few years?

I think that digital publishing and ebooks will take over in the next few years. As more and more people get iPads I can see it becoming the norm. It has already happened in the music industry and why should the book industry be any different. The attachment to the paper publication of a book may also be a generational thing as more and more young people accept multi- functioning devices as the way we live now. I have noticed that most young people don't wear watches because their mobile phones tell the time and they have grown up having phones with them always. I think that this new technology will give opportunities to authors to self- publish and gems of talented unknowns will be found that would otherwise have been left on the slush pile. I am not afraid of change – it's a fact of life and it is better to embrace and see the positives and possibilities than try to keep the status quo – that's progress.

12. If you ever experience writer's block or if the creative muse is hard to find, what do you do to resolve the situation?

I don't usually suffer from writer's block as I am tied for time on a daily basis and writing is a luxury and treat for me. I have a space that I write in and a view that is perfect looking out to sea and that helps me to get into the zone. If I ever feel like I really don't want to write and there is a deadline looming I will go for a walk down the pier in the village of Howth where I live and that usually works.

13. If you could co-write a book with any author, who would it be?

Having co-written a book already with another author (What Women Know, written with Juliet Bressan) I really would like to work with a family member. I have written a children's story actually and my daughter, Nicole, has illustrated it. She is only seven but extremely creative and I love the naive quality in her drawings which suit the character that I have written about. I would love to see it published and who knows in the future maybe we will write a book together.
---
---