MEREDITH JAFFE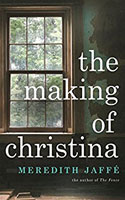 The Making of Christina (2017)
Interior designer Christina has an affair with a wealthy married client, Jackson. Although he doesn't leave his wife and family, they settle into a long-term relationship and he becomes a father figure to her young daughter, Bianca. He even moves Christina and Bianca to an isolated farm once owned by an artist, where they can enjoy an idyllic lifestyle, with horses, fresh mountain air and no money concerns. As Christina gets to work restoring the property, her once-tight relationship with Bianca sours – but she never guesses that her daughter's moods go beyond normal teen issues.
With the narrative switching from present day to past, this is a powerful, emotionally charged read that hooked me right from the start. With plenty of issues to muse over, it's ideal as a book club pick.

---
The Fence (2016)
Gwen has always been a good neighbour, developing close bonds with those who live on Green Valley Avenue. But when working mother Frankie moves in with her stay-at-home husband Brandon and four young children, all good will evaporates. To keep her kids safe and her nosy neighbour out, Frankie is demanding that a front fence go up between the two properties, right where Gwen has lovingly grown a row of crab apple trees.
I started the book thinking I'd side with the young family but I was soon totally Team Gwen. This suburban satire is a very promising debut. The dirty tactics employed by these feuding neighbours raises plenty of smiles and the relationship troubles faced by both Gwen and Frankie ensure the book has plenty of heart too.