MELISSA SENATE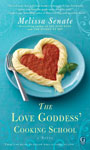 The Love Goddess' Cooking School (2010)
Holly has just broken up with the man she knew was not the love of her life and has moved in with her grandmother Camilla on Blue Crab Island. How did she know John wasn't the love of her life? Camilla, the island's "love goddess", fortune teller and Italian cook/cooking-class teacher, predicted that Holly's true love would enjoy the old-world dish Sa Cordula, and John hated it. It is made of lamb intestines, butter and peas - what was her grandmother thinking? After Camilla dies, Holly takes over Camilla's Cucinotta, her grandmother's Italian delicacy shop and cooking class space. Having never been a very good cook, Holly will have to learn how to create her grandmother's perfect dishes, and learn to teach her class of four in just six weeks. Does Camilla's magical blood run in Holly, and will she be able to pull together a lesson plan in such a short time frame? Will she be able to beat the new competition for cooking classes in her small town? The most important question as far as Holly is concerned is, who is the sexy tall dark and handsome man she keeps running into, and does he like Sa Cordula? (AV)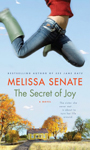 The Secret of Joy (2009)
Rebecca Strand has been living a nice life. She has a boyfriend, even though they have become emotional distant recently, a loving father, and a steady job. However, this carefully constructed life is quickly blown to pieces when her father is diagnosed with cancer. In a matter of weeks he is gone, leaving Rebecca an orphan with no siblings to fall back on, or so she thought. In a fleeting moment before his death her father leaves her with the information that she has a half sister, the result of a vacation fling. Rebecca travels to Wiscasset, Maine, to meet this sister she never knew. But her sister, Joy Jayhawk, is less than welcoming. Rebecca attempts to connect with her sister, whose emotionally frigid marriage is already on the fritz. This is a great novel which explores the depths of sisterhood and what one woman will do to connect with the sister she never knew. (SN)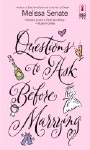 Questions to Ask Before Marrying (2008)
Ruby has just got engaged to fellow school teacher Tom when her twin sister Stella announces she is pregnant after a one-night stand. So Ruby joins her on a road trip to find the guy - believed to be a lawyer from Las Vegas called Jake. The trip will also give Ruby a chance to consider whether she is really ready to marry Tom. Her sister, a professional face reader, thinks he's boring and her sexy colleague Nick (her McDreamy) has just confessed he has feelings for her. And does Ruby think the relationship will stand up to all 15 questions couples should ask before marrying?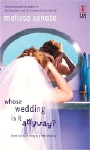 Whose Wedding Is It Anyway? (2004)
Eloise Manfred is offered a $100,000 wedding in exchange for featuring in a bridal magazine. With her mother dead and her father's whereabouts unknown, she accepts the offer to be the Modern Bride. But when faced with a Bird Bird gown, a vegan menu and a Leap Year wedding date, Eloise soon learns there's no such thing as a free wedding.

Did you know? Whose Wedding Is It Anyway is a spin-off of See Jane Date. Eloise was one of Jane's colleagues who lived in the apartment below.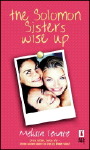 The Solomon Sisters Wise Up (2003)
Sarah discovers she is pregnant to a guy she's only be dating a couple of months. Will he stay around long enough to meet his baby and will her pregnancy affect her chances of promotion to senior magazine editor? Her older sister Ally, who has been desperately trying to fall pregnant for five years, discovers that her husband has been having an affair. Meanwhile their half-sister Zoe is a successful dating guru who critiques people's dating skills but her own love life is going nowhere. With her former friend about to tie the knot with her father, Zoe heads to New York to head off her mother who is on the loose and out for revenge. The three Solomon sisters, who have never been that close, all end up living at their father's house and help each other deal with their personal crises.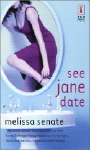 See Jane Date (2001)
Assistant editor Jane Gregg thinks her life will be perfect once she gets a promotion and finds a man. And she enlists her friends' help in setting her up with blind dates. But first she has to make it through her cousin Dana's wedding as a bridesmaid in peach; and edit her childhood nemesis Natasha Nutley's memoirs about her affair with a famous actor.

---
---