INTERVIEW
April 2010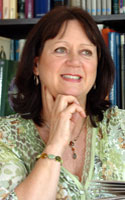 MELANIE ROSE
Nurse Melanie Rose self-published her first novel, which led to a three-book deal with HarperCollins. She lives in Surrey with her husband and four sons. (Interview by Angela Smith)
Photo credit: Terry Habgood
1. Why did the title of your debut novel change so much?

Life As I Know It started out as a self-published book called Being Lauren, about a young woman, Jessica, who is struck by lightning and wakes up in hospital to find herself living the life of another woman – troubled mother of four, Lauren Richardson. After being voted one of the favourite reads of the year by BBC Radio 4's Open Book program in the UK, publishers HarperCollins picked it up to re-release an edited and improved version of the original and designed a new title and cover. Intended to be out in time for Valentine's Day, they planned to rename it Lovestruck, but its publication was unavoidably held up until April and so the title was changed to Could It Be Magic? My US publisher, Bantam wanted a different title again and decided the Americanised version should be called Life As I Know It. It also has a variety of titles across Europe. In Germany it is called Your Day Is My Night and has been so popular it is to be made into a film.

2. Where did the inspiration come for your characters?

The inspiration for my characters comes from real life. Each character is a mix of people I have met; I take the physical appearance from one and a temperament or occupation from another and mix them into a new persona.

3. In Life as I Know It, the main character is struck by lightning. Did you have to do a lot of research to learn about the effects of lightning strikes to make her injuries believable?

I did masses of research about lightning strikes to be sure the facts surrounding Jessica and Lauren's strike was accurate and believable. Although my stories are fiction, I incorporate many incredible but true facts, which can - and sometime do - happen. Lightning is a truly amazing and powerful force of nature and many people who have been struck have had their lives irrevocably changed by the experience.

4. What was your favourite scene in Life As I Know It and Coming Home?

My favourite scene in Life As I Know It is when Lauren and her sister Karen are at the farm with the children and Lauren decides to tell Karen the truth about what happened to her. I had to spend a lot of time in my head - being Karen - to gauge her reaction to the news that someone else is occupying her sister's body! In Coming Home my favourite scene is when Kate and Jadie go out to play in the freshly fallen snow. The snow is like a blank canvas waiting for the first brushstrokes of their boots. It holds all the purest possibilities that life offers us before we have to start making choices and risk messing things up.

5. Tell us about your journey to getting published.

My books had an unusual journey to publication. Having written all my life, I unfortunately timed bringing out my first novel just as the publishing industry was in disarray. Publishers were only taking books from literary agents and agents were getting over 200 submissions a week but could only accept around three new authors a year. Undaunted, I self-published my novel, Being Lauren, with an initial run of 1000 copies. Those copies sold out in the first 90 days and we did a second print run of another 2000. When to my delight Being Lauren was voted one of the favourite reads of the year by BBC Radio 4's Open Book listeners, I was noticed by my agent who put me in touch with UK publisher HarperCollins. They signed me for a three-book deal, the first of which was an edited and improved version of Being Lauren, eventually renamed Could It Be Magic? My agent also sold the rights all over Europe and to Bantam Books in the USA and so Life As I Know It was born.

6. Did you always want to be a writer?

I've been a writer since I could first hold a pen and learned to read. Writing comes naturally to me and is a necessary part of my being. I began with essays and progressed to writing articles for magazines and newspapers. Before Being Lauren, I'd written six full-length novels which I didn't try to get published and they went into the loft space while I brought up my family of four sons. When I looked at them recently I found the ink had faded and the manuscripts illegible. I consoled myself that they were great practice for Being Lauren/Life As I Know It.

7. What inspired the storyline of Coming Home?

My second book, Coming Home, is about a young woman who finds herself lost in a snowstorm with no idea who she is or where she came from. She finds shelter in a nearby house where a young girl called Jadie chats to her, only to find out that the child has been an elective mute for two years. As the snowstorm worsens, the power lines come down and the telephone is cut off. The house owners are kind but something is not quite right. Stranded, the young woman tries, with the help of hypnosis, to work out who she is and where she was going – but instead of finding her true identity she discovers herself in the persona of a girl in Victorian times. The storyline was inspired partly by my gift of synesthesia, which means I see letters and words in colour. My brain has learnt to process everything in glorious technicolour but I don't see numbers as anything other than white. To me, that lack of colour in numbers is like being blindfolded or lost in an alien environment, much as our mystery girl feels in Coming Home when she finds herself lost in the snowstorm. The story is also based on the true lives of my grandparents, Kitty and Gilbert. Kitty really did lose her father like the Kitty in the story and her mother became a school Dame (running a small school from her house) to keep a roof over their heads. Much of the Victorian part of the story is based on stories I learned at my grandmother's knee.

8. Tell us about your next book Down to Earth.

My third book, Down To Earth, is also based on a real life experience. I did a charity parachute jump when I was in my early 20s which went badly wrong when I was told to jump out of the plane in the wrong place. As I floated earthward the airfield was nowhere in sight and I actually landed on the roof of a house in a nearby village. Usually such a mistake is fatal for a first-time jumper so I was very lucky. In the story our heroine Michaela lands in the right spot but finds the vibrant airfield she just left, deserted and abandoned. Her car is gone so she walks to a local pub where she finds posters of herself asking have you seen this girl? The posters are old and faded and yet the date on them is today's date and Michaela isn't lost at all. But then she spots a newspaper and sees the date is exactly six years, six months and six days into the future…

9. Your storylines always have a magical/fantasy element to them. Why is that?

I use the magical/fantasy elements in my books, because real life can be hard. I worked for many years with disadvantaged and sick children and writing stories filled me with hope that I tried to pass on to those around me. We use only a small portion of our brains and I like to think outside the box, pondering endless scenarios. I find myself looking at a situation and wondering what if? There are important choices to be made about how we live our lives and at each crossroads new possibilities open up. I've been told my books are pure escapism; exciting page-turners which keep readers guessing right until the end. I think that when the going gets tough, a little believable fantasy/spirituality is what we all need in our lives to lighten the load. A friend once told me that reading my books was like getting into a warm bath.

10. Who are your favourite authors?

My favourite authors include Bernard Cornwall, because I find the historical facts in his books fascinating and he tells a great story. I loved Alice Walker's The Color Purple. I like Dan Brown and Jodi Picoult as long as she doesn't kill off the main character and I've just read a great thriller by Swedish author Stieg Larsson.

11. What is one thing you'd like to learn to do?

I'd love to learn to speak French fluently. I recently returned from a holiday in France and wished I had more than my schoolgirl French to fall back on.

13. If you were stranded on a desert island, what would be three things you couldn't be without?

If I were on a desert island, I'd take my Roget's Thesaurus to keep my brain active, loads of moisturiser or sunscreen and a very big knife so I could become self sufficient, build a shelter and hack open those coconuts. I'm quite a practical person and always like to be prepared for anything.

14. What advice do you have for aspiring novelists?

The advice I'd give aspiring novelists is never give up! When I couldn't find a mainstream publisher, I self-published. Then I rang bookshops and asked if I could come in and sign my books and talk to customers about my work. I asked people I met about book clubs and did talks to reading groups. I found out where there were fetes and fairs and took a stall to promote my books. If something is important to you, then pull out all the stops. Don't wait for the big break to come to you – get out there and give it a nudge in the right direction.

15. What message would you like readers to take from your books?

The message I'd like readers to take from my books is hope. You have to be prepared to believe that anything is possible. Believe in yourself. Miracles can and do happen!
---
---