MEG CABOT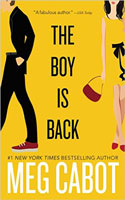 The Boy is Back (2016)
It's been 10 years since Becky Flowers has seen or heard from high-school sweetheart Reed Stewart. Now a professional golfer, Reed's life has taken him far away from his small home-town, but when his parents get into a spot of bother, Reed can't put off the inevitable any longer.
For Becky, life is going well, she has built up her father's relocation business and has a steady relationship with boyfriend Graham, so Reed's return is absolutely, definitely, of no interest whatsoever(!). So when Becky gets roped into helping Reed's parents relocate, she is determined to maintain a professional front at all times with the man who stole her heart. Easier said than done!
It is over a decade since Meg Cabot's last book in this series, and boy have I missed her. This latest book shows just what Cabot is all about, with a funny, irreverent style, a cute romance and her original, eccentric storytelling method.
Told entirely in emails, IMs, texts and some really well-pitched, entertaining product reviews, Cabot masters the form brilliantly and tackles any shortcomings head on. Although this unconventional approach to telling the story can take some getting used to and may not be to everyone's taste. Her cast, particularly the wider family, is wonderfully kooky and unique and though the plot may be a bit thin on the ground, it is as delightfully quirky as the rest of the set-up.
The incident that came between Becky and Reed felt a bit undercooked and the ending and love story were perhaps a bit hasty, but these are just minor quibbles in what is, all in all, a total treat. My only request, please, Ms Cabot, don't make us wait so long next time. (JC)

---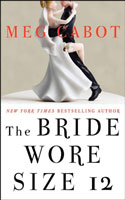 The Bride Wore Size 12 (2013)
Heather Wells is still working as an accommodation manager at a university and is stressing out about the new students moving in. There are still resident advisors to train, rooms to set up and not to mention a member of royalty is joining the university too.
With so many things going on, it isn't long before something goes wrong. Something terribly wrong. A new student is found dead in the dorm room and now every single resident in the building is a suspect. And all at a time when Heather has her wedding coming up! Can Heather juggle her work and home life while trying to solve a murder?
The only experience I've had with Meg Cabot is The Princess Diaries, which I read a long time ago, so I was interested to see how she wrote for adults. I have to say I enjoyed this book a lot but there were a couple of points where I thought things could have been a little better.
Firstly, the build up to the solving of the murder was a little bit anti-climactic. There wasn't much of an explanation as to why what happened.
Also, I found another resolution in the book to be a little confusing (that of the Prince) because it struck me as completely random and not explained enough. However, this could be, like always, down to reader interpretation.
I enjoyed the writing style, it was easy to follow and nicely paced. Heather, as a character, was certainly strong and was more than happy to stand on her own two feet. My kinda girl! I often feel annoyed when authors portray women as weak and in need of a man to help them out but there was no danger of that happening in this book! But her fiance, Cooper, wasn't overly active in this book; the only times we met him were in the beginning and towards the end.
The ending to this novel was sickly sweet (I loved it) and I'm sure that for fans of Heather they will be ecstatic by what happens in what is presumedly the last book in the series. (LL)

---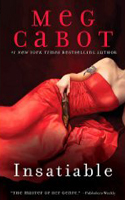 Insatiable (2010)
With the plethora of paranormal (vampire) fiction, it's hard to find one that has the elements of mystic, romance and originality - but Meg Cabot has hit the spot. At first glance, it probably might seem like another soapy romantic story of a depressed vampire boy meeting an ordinary human girl but Insatiable goes beyond that.
It narrates the story of Meena Harper, a dialogue writer for a soap opera called Insatiable, who subsequently finds herself in a series of frustrating events - losing her well-deserved promotion, compromising the storyline to meet the demands of sponsorship, and having to deal with her next-door neighbour trying to fix her up with a new man.
To others, Meena comes across as a normal woman dealing with the messed- up realities of her life. But she has the supernatural ability to see the demise of people around her and Meena goes all the way to prevent these events from happening - until she meets a young immigrant woman whose incoming death becomes the igniting factor of the story.
Lucien Antonescu, a 500-year-old vampire, is more than just a bloodsucking machine - he's the son of Dracula and the new Prince of Darkness. When a series of vampire killings strike New York, Lucien leaves his teaching job and hometown behind, determined to stop the carnage and find the culprit before another woman is killed. But his mission is not without obstruction as Alaric Wulf, who works for the Palatine Guard, thinks that Lucien is behind all of it.
I absolutely loved the first half of the story, where the tension started to build up and the relationship between Meena and Lucien raised questions about the possibility of a vampire-human romance and how it came to be a threat to her loved ones. But somehow I was a little bit disappointed by the second half of the story as it seemed to be a little scattered and predictable. (XT)

---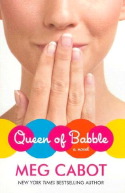 Queen of Babble (2006)
Lizzie Nichols is a blabbermouth: she just can't keep anything to herself. She heads to England to be with Andrew who rescued her from a dorm fire. But things don't work out when she blabs about him working while he's on the dole.
Next Lizzie finds herself on a train in France, where she plans to meet up with best friend Shari and her boyfriend Chaz, who are helping out with wedding catering at a chateau.
Telling all her woes to a fellow passenger, she then discovers that he is the chateau owner's son. Opening her big mouth keeps getting her in trouble at the chateau - until once it may just help her save the day?

---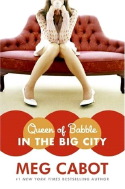 Queen of Babble in the Big City (2007)
In this sequel to Queen of Babble, Lizzie Nichols is back from her holiday in France, in New York looking for a fashion job and an affordable apartment with best friend Shari. When boyfriend Luke asks her to live with him in his mother's Fifth Avenue apartment, Lizzie decides that solves one of her problems - especially as her job hunt is proving harder than she expected.
To break into the wedding gown restoration field, she offers to work for nothing, so must also takes on a paying job as a receptionist at a prestigious law firm. There she meets Jill Higgins, a society bride whose mother-in-law is forcing her to wear a hideous, too-small, tartan gown. Can Lizzie save her day, get her own man to commit and find out why Shari is being so bad-tempered?

---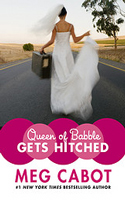 Queen of Babble Gets Hitched (2008)
When Luke arrives unexpectedly on her doorstep with a marriage proposal, Lizzie accepts . . . then has to hurriedly get rid of his best friend Chaz, who'd spent the night.
For a wedding gown restorer, who's used to dealing with the whirl of weddings, Lizzie sure seems to be a reluctant bride. As she throws herself into making a wedding dress for discount store heiress and paparazzi target Ava Geck, Lizzie finds she breaks out in hives whenever she thinks about her own big day. Even Chaz and her best friend Shari think she shouldn't be with Luke.
And what chance do they have when the groom-to-be has returned to France to work for his uncle's investment banking firm.
Although life seems to be on the up for Lizzie, this book puts the series into a downward spiral. Maybe it's fortunate that it's time for the Queen of Babble to get ditched!

---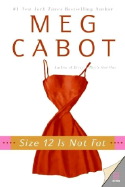 Size 12 Is Not Fat (2006)
For Heather Wells, proclaiming her individuality was the biggest mistake. It made her lose almost everything - her life savings, a recording contract, her heart-throb boyfriend. But she soon settles into a job as an assistant residence hall director at the New York College to pay off her tuition fees; while living with her ex's private eye brother, Cooper, whose charms she finds it hard to resist.
When girls from the dorm start turning up dead, Heather decides to investigate. Can she solve the crime before she ends up being one of the victims? (XT)

---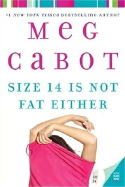 Size 14 Is Not Fat Either (2006)
In this sequel to Size 12 is Not Fat, just as Heather Wells thought that the year would get better (after her near-death experience last year), a series of problems pop out of nowhere: her dad arrives on her doorstep hoping to move in; ex-fiance Jordan Cartwright comes back to declare his undying love for her and the head of a cheerleader is found among the pots of the residence's cafeteria.
Once again, her heroine nature comes to the fore as she tries to crack the case, along with her hot landlord (and crush) Cooper. Can Heather save the day and set things straight? (XT)

---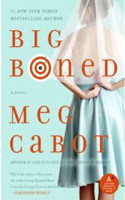 Big Boned (2007)
aka Size Doesn't Matter
The last book in the Heather Wells series. With a fetching, athletic assistant math professor, Tad, as her boyfriend and her dad finally moving out, Heather seems to be having some of the best moments of her life. But the latest murder victim in "Death Dorm" happens to be her new boss, Dr Owen Veatch, and the finger of suspicion is pointed at the would-be boyfriend of her graduate assistant.
Will Heather be able to find the murderer, answer Tad's important question, make Cooper realise that she's the one for him, and most importantly save her own skin? (XT)

---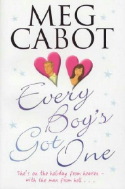 Every Boy's Got One (2005)
Jane Harris, a famous cartoonist, is going to Italy to be maid of honour in her best friend Holly's wedding. Mark and Holly are eloping to Italy because their parents do not approve of their relationship. Jane is a romantic and knows that Mark and Holly are perfect for each other and will live happily ever after.
Cal Langdon, best selling non-fiction author, is the best man. He doesn't believe in love or the concept of marriage and thinks Mark and Holly are making a mistake. With Jane and Cal despising each other from the start, Jane is determined not to allow his negative views of love and marriage sabotage the upcoming nuptials.
This novel is a fast read using travel journals and e-mails to tell the story. (AO)

---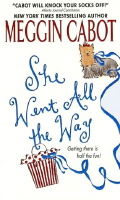 She Went All the Way (2002)
Hollywood screenwriter Lou Calabrese has just been dumped by her boyfriend of 10 years. To make matters worse, she is stuck in a helicopter with gorgeous Hollywood playboy Jack Townsend, star of her screenplay and the man whose ex just ran off with Lou's boyfriend.
In the middle of their flight, the pilot attempts to kill Jack and the helicopter crashes in the Alaskan wilderness. Jack and Lou must now find their way back to civilisation, with Lou determined that she is not going to give in to the sexy star. (AO)

---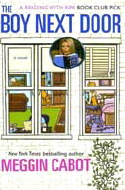 The Guy Next Door (2002)
aka The Boy Next Door
In this prequel to Boy Meets Girl, with the story told in email format, Melissa Fuller, social writer at the New York Journal, is almost on the brink of losing her job. One day she is late to work again (her 37th time this year) because she finds her elderly neighbour has been the victim of a violent intruder.
She contacts the woman's nephew, Max Friedlander, to tell him to look after the cats and dog. Since Max doesn't want to end his vacation with a supermodel nor be written out of his aunt's will if she comes out of her coma, he asks a friend, John Trent, a crime reporter on a different New York newspaper, to pretend to be him and live at the apartment. What will happen when Mel finds out that the cute nephew isn't who she thinks he is?

---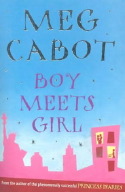 Boy Meets Girl (2000)
Kate McKenzie's life isn't going according to plan - she's sleeping on her best friend's couch, she's broken up with her musician boyfriend and she works for Tyrannical Office Despot Amy Jenkins in the human resources department of the New York Journal. It may seem like things can't get any worse . . . but they can.
When Kate is forced to sack Ida Lopez, one of the most popular staff members, she gets caught up in a legal fight. But maybe lawyer Mitch Hertzog will prove a bright light on the horizon. The story is told by written communication, ie letters and emails.