MARILYN SIMON ROTHSTEIN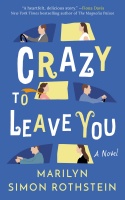 Crazy to Leave You (2022)
Lauren has dieted herself into a size 12 bridal gown but her 41-year-old groom has decided not to turn up, because he claims he isn't emotionally mature enough to get married yet. With her chances of starting a family down the drain, Lauren throws herself back into her advertising job.
After she is injured returning from a client meeting, she gets a driver, Rudy, who is a lovely guy caring for his nephew since his sister is in a coma.
Meanwhile Lauren's actress sister, Margo, has turned up on her couch – having been killed off from her daytime soap yet again. She has stacked on the pounds which is affecting her chances of scoring another role.
This is a sharp, empowering story which raises a variety of issues from body shaming to sibling rivalry. Lauren is a relatable character who embraces her need to move on and find self-acceptance and a new life.

---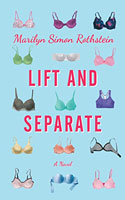 Lift and Separate – (2016)
Marcy's husband, Harvey – the owner of the Bountiful Bosom bra company – announces he is leaving her after 33 years of marriage for a much younger lingerie model. So Marcy, an empty-nester, has to strike out on her own – with the help of her tell-it-like-it-is friend Dana, who is on to her third marriage.
This story delves into the trials Marcy faces as she contemplates life alone – finding paid work as well as dealing with her mother's ill-health and her daughter's own affair with a married man.
This was more of a character-driven, rather than plot-driven, novel. Marcy has a wry sense of humour but perhaps it works best for American audiences. One for those looking for a more mature heroine.