MARIA SEMPLE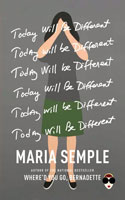 Today Will Be Different (2016)
Illustrator Eleanor Flood was planning to have a good day, starting with a session with her poetry tutor. But things go awry when her precocious son, Timby, pretends to be sick at school and she discovers her hand surgeon husband, Joe, has told his work that he is on leave, which is totally news to her. She also gets an unwelcome reminder about her estranged sister Ivy.
Semple has written another quirky character in Eleanor, but her disjointed story didn't appeal to me. Others may love the inclusion of the poem, the graphic novel but these elements left me wondering if I should bother finishing the book. Told over the course of a day, the storyline about Eleanor's past relationship with her sister and the mystery about how Joe is spending his days kept me going but by the end, I realised I wouldn't have missed out if I had stopped midway. This might be one of those love-it-or-hate-it books.

---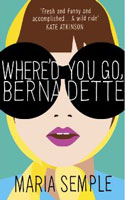 Where'd You Go, Bernadette (2012)
This is the story that daughter Bee pieces together of what leads to her mother Bernadette's disappearance. Bernadette is an award-winning architect who buys a ramshackled big house in Seattle when her husband Elgie goes to work for Microsoft. He becomes a star and money is no object but the house remains a leaking wreck. Bee is a highly capable student and much loved at her school but her standoffish mother doesn't endear herself to the other parents. She even uses a virtual assistant in India to help organise her life. Bernadette is reluctant to go on a family cruise to Antarctica where she will have to deal with seasickness and people in close quarters but she has promised Bee. So what happens to Bernadette that makes her disappear without telling her beloved daughter where she's gone?
Bernadette is indeed a quirky character, with loads of layers that are peeled back during the story. Her skirmishes with the school mums, including the conniving Audrey with the blackberry problem, are very funny. Told from Bee's viewpoint, with a series of emails and letters included from various characters, the first three-quarters of the book was far more enjoyable - I think I must have missed Bernadette once she disappeared.