Maggie Alderson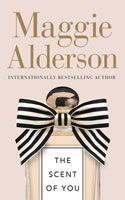 The Scent of You (2017)
Perfume blogger and yoga instructor Polly's husband has suddenly upped and left, saying not to contact him because he needs space. As the empty-nester with two adult children tries to come to terms with the shock departure, Polly finds a new friend in yoga client Shirlee; runs into a former flame from her university days, Chum, at her mother's retirement home; and meets an intriguing new perfumer Guy.
I really enjoyed being dipped into the heady world of perfumes, to learn more about Polly's passion and see how she matches scents to her memories. I did miss the glamour and gossip of Alderson's earlier novels so my interest waned a bit in the second half. But the mystery of why her husband left and finding out more about Guy kept me going.

---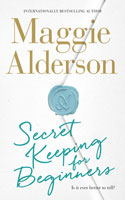 Secret Keeping for Beginners (2015)
Divorced mother of two Rachel is super keen to get ahead in her career in interior design PR, especially now that she's struggling to keep her head above water financially. Her artistic sister, Tessa, barely leaves home these days, while her husband Tom is becoming recognised everywhere because of his home restoration TV show. The youngest sister, Natasha, is a make-up artist based in New York – and there's something that she's been keeping from her family all these years. Meanwhile their quirky mum, Joy, is refusing to open a series of letters – what is she hiding? - and Rachel's boss, Simon, is nursing a rather uncomfortable attraction. All of these secrets are set to come to a head as these characters go on an emotional journey. While the careers may still be glamorous, this story is a lot more down-to-earth than Alderson's previous fashion-focused novels.

---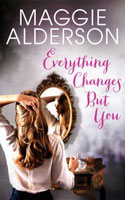 Everything Changes But You (2012)
Hannah works as a beauty editor in London and is married to an Australian model-slash-songwriter called Matt. They move to a small village to be near her mother Marguerite, who has to deal with her alcoholic ex-husband Charlie. Meanwhile Matt's cousin Ali moves to London after being scarred in a workplace accident. When Matt heads back to Sydney after a family crisis, he ends staying longer than expected after his songwriting partner Pete finally finds success. This story puts the spotlight on being in a relationship complicated by feeling torn about where home is.

---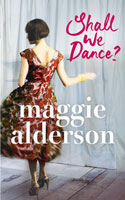 Shall We Dance? (2010)
It just wouldn't be a Maggie Alderson novel without fashion and a gay friend. In this case, the heroine Loulou runs a successful vintage clothing shop in London. And she not only has the very camp Keith in her life, she also is very close to rock legend Richard, who has a penchant for much younger women. Her petulant 21-year-old daughter Theo never seems to date and Loulou is wondering if her own reluctance in this field may be partly responsible. With her 49th birthday looming (much to her dismay she's going camping at a music festival), Loulou organises a matchmaking party for her daughter. And both women meet someone - someone not entirely suitable. Told from the viewpoints of both Loulou and Theo, this throws the spotlight on the fraught mother-daughter relationship, not losing your cool as you grow older, and whether attraction should overrule commonsense.

---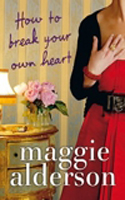 How to Break Your Own Heart (2008)
Amelia is married to wealthy, eccentric wine buyer Ed. He's very set in his ways and has always made it clear he's not interested in being a parent. Trouble is now Amelia finds herself wanting a baby and thinks the matter should be reopened for discussion. As her over-the-top friend Kiki sets her up with a new career as clutter-clearer to the rich and disorganised, Amelia needs to decide whether she is going to stay in her marriage or take the chance on meeting someone else. Because it's a Maggie Alderson book, of course there's a gay friend and a glamorous social scene. Plus throw in a wise old neighbour, a gorgeous gardener, an intimidating father and the return of the first boy Amelia ever kissed - and it all adds up to her best book yet.

---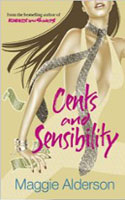 Cents and Sensibility (2006)
Stella, luxury reporter for a London newspaper, knows all about elite brands but somehow starts dating Jay Fisher, without realising the renowned playboy is the billionaire heir of an American banking group. Then her six-times married father Ham doesn't want her seeing Jay because he dislikes his family. Throw in some work problems alongside romantic tensions with a colleague and stepbrother, and Stella finds that money might make the world go round but it doesn't make the path to love any easier to tread - even in Prada wedges.

---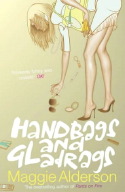 Handbags and Gladrags (2004)
Magazine fashion stylist Emily Pointer has a rule about fashion: never wear anything older than six months . . . unless it's so old you can pass it off as vintage. From Milan to London, Paris to New York, Emily tries to keep her affair with Australian photographer Miles a secret - especially from her husband. But she starts to discover that even the designer clothes in her closet won't contain the skeletons lurking inside.

---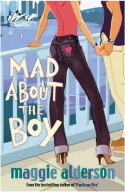 Mad about the Boy (2002)
When Antonia Heaveringham's aristocratic husband Hugh tells her he's gay and moving in with his hairdresser boyfriend, she finds she is increasingly snubbed by the social set in her adopted city of Sydney. But Ant refuses to fade away . . . instead she goes into the antiques business and joins a gym to lose her post-separation podge where she meets the mysterious James.

---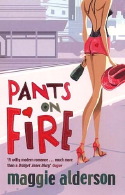 Pants on Fire (2000)
Magazine editor Georgia Abbott arrives in Sydney from London to work on Glow magazine, leaving behind a philandering ex-fiance. She is introduced around town in a whirlwind of A-list parties. But her dreams of being whisked away by a Akubra-hatted man are dashed when all the blokes she meets are either gay, married, unfaithful or just plain unworthy. Or are they?