LUCY DAWSON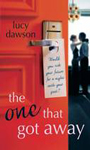 The One That Got Away (2010)
Molly's husband Dan is keen to start trying for a baby but she wants more time to think about it. So when she finds him with a condom packet and a pin, it's enough to make a girl a bit paranoid. Then Molly commits a social networking faux pas, sending a chatty how's-it-going Facebook message to her former boyfriend Leo. He responds and seems more than keen to pick things up again.
This suspenseful story, which focuses on a couple wondering if they have the same future in mind, will keep you guessing throughout. The second half is definitely stronger, when things take a dark and sinister turn. The ending, in true Lucy Dawson style, is abrupt and doesn't tie up all the loose ends. But all in all a very clever, compelling read.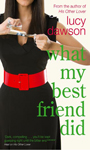 What My Best Friend Did (2009)
Photographer Alice meets kids TV presenter Gretchen on a photo shoot in Los Angeles. Now Alice has a new fun-loving, bubbly friend to hang out with - and she even comes with the added attraction of a cute brother, travel writer Bailey. But Gretchen has a secret which will drag Alice and her boyfriend Tom down.
This is one book where it works not to know much about the plot before you begin. It is a real page-turner right from its explosive, dark start. But be warned: if you enjoy stories with a nice epilogue that wraps up all the characters' lives, Dawson seems to be developing a reputation as master of the hanging ending.

His Other Lover (2008)
When Mia trips over her live-in boyfriend Pete's mobile on the way to the bathroom one night, she reads a text message that makes her world fall apart. The message from Liz is far too intimate to be from a work colleague. Is Pete really capable of having an affair? Mia doesn't have much time for cheaters - she no longer sees her best friend Katie because she couldn't be trusted around her boyfriends. So Mia calls in sick to work and starts on a quest to uncover the truth. With the evidence indicating that Pete is indeed having an affair with an actress called Liz, Mia decides to start playing dirty to get rid of the other lover. If she's not going to walk out, then she sure is going to fight back.
A captivating debut that will have readers cheering on Mia and her underhand tactics. The only negative was an inconclusive ending which left me wondering if the last few pages were missing.

---
Also by author:


You Sent Me a Letter



Little Sister

---