LUCY CAVENDISH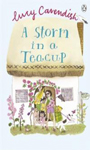 A Storm in a Teacup (2010)
In this third instalment about Samantha Smythe, the mother of four is still overwhelmed by her life. Everyday she must take care of her children, clean, cook, shop and make time for her husband, John, as well. How can one woman do it all? Especially when Samantha's youngest boy, Jamie, starts wearing little girl's dresses and starts trying to intentionally hurt children at school. When she voices concerns to her husband, he just says she is worrying too much. Then the opportunity pops up for the family to spend the summer at a beach house in Devon. Samantha sees this as a great chance for her family to spend time together and work through their issues. But at the last minute John announces he must work and leaves Samantha once again to care for all the children and chores on her own. But perhaps the day will be saved by a quirky elderly man named Noah who lives nearby. Immediately Samantha sees a change in Jamie, who takes to Noah like a moth to a light. Samantha soon immerses herself in the village life and is even organising a fete to help save an old manor house. The only problem now is oldest son Edward who's taken to hanging around with Noah's goth grand-daughter who teaches him to drink Barcardi Breezers and get into trouble. Soon the holiday that had seemed so pleasant is now full of fights and deception. Whether you have children or not, this story surely will entertain and resonate with many readers. Samantha is like many women today - overworked, tired and in desperate need of time for herself and her story is one that readers won't want to put down until the end. (AS)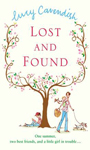 Lost and Found (2009)
The sequel to Samantha Smythe's Modern Family Journal, this book fleshes out the characters in the mother-of-three's life even more and proves to be a much stronger book. After Bennie nearly drowns while on holiday, Samantha decides that she wants to try for another baby - armed with a How to Get a Girl kit. But husband John is away building theatre sets and the schoolgate gossips believe she is having an affair with Ferrari-driving ex-footballer Gary. Meanwhile her Australian nanny Wendy seems to be shirking her responsibilities and her childhood friend Naomi turns up unexpectedly with her 10-year-old daughter Lexie in tow.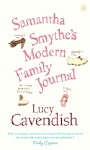 Samantha Smythe's Modern Family Journal (2007)
aka The Invisible Woman
Samantha lives in a state of happy chaos with her three sons - Edward, 8, Bennie, 2, and baby Jamie - and her husband John. As a freelance writer, she spends a lot of time staring into celebrities' fridges, chatting with her best friend Dougie, and hanging out with the playgroup mothers. But then her first husband - also called John and the father of Edward - returns to spend time with his dying mother. But he seems to be spending most of his time with the au pair Santa. Samantha has to ensure that John the First doesn't upset her family's tenuous balance as her sister Julia's marriage goes into meltdown. From trips to the hospital emergency department, fighting over who gets to sleep in and tailing Julia's errant husband, this is a gotta-laugh-or-you'll-cry look at the minutiae of life with a young family.

---
---