DIGITAL DOMAIN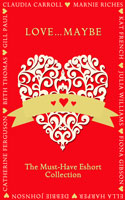 Avon is releasing a digital short story collection in time for Valentine's Day 2015. Authors involved in Love...Maybe: The Must-Have Eshort Collection include Claudia Carroll, Fiona Gibson and Julia Williams. The summary says: Love Valentine's or hate it, we have a story for everyone. From heart-wrenching proposals to naughty little Chihuahuas; unexpected secret pregnancies to wicked love-potions; serendipitous brief encounters that change the hands of fate to bitter ghostly beauties who haunt loveless singletons. This is the ultimate Valentine's Day short story collection. Tear-jerking, enchanting, feel-good and fabulous... Curl up, relax and escape into Valentine's Day.

WE SINK OR SWIM TOGETHER: The Weepy One - Gill Paul
It's the night before the Lusitania docks. Tragedy strikes. Will love survive?
SINGLE, FORTY AND FABULOUS: The Feel-Good One - Claudia Carroll
Kate wishes she could turn back time to her 21st, in the arms of her childhood sweetheart. Be careful what you wish for.
AN UNFORGETTABLE PROPOSAL: The Guilty One - Beth Thomas
William accepts Samuel's proposal of marriage, but discovers that Sam has been hiding a secret. And it's one that will change their lives forever...
THE LOVE POTION: The Vengeful One - Marnie Riches
When a pharmacist discovers her boyfriend's infidelity, she cooks up a Valentine's feast he won't forget...
THE MYSTERIOUS CASE OF CUPID AND THE DRAG QUEEN: The Suspicious One - Debbie Johnson
Searching for a Chihuahua called Cupid, PI Jayne McCartney discovers love comes with a bite!
SNOW ON VALENTINE'S DAY: The Bittersweet One - Ella Harper
Clara goes to the same landmark every year, for the same heartbreaking reason. But what if things change?
A BRIEF ENCOUNTER: The Romantic One - Julia Williams
Rachel has a secret. Daniel has a diamond ring. When a storm traps the two strangers together, destiny changes.
SAVING MIRANDA: The Serendipitous One - Catherine Ferguson
Dynamic Rufus and his desire to save the planet has won Miranda's heart, but is he really her perfect match?
THE STAINED GLASS HEART: The Enchanting One - Kat French
Does the new tenant have what it takes to break the spell of the three loveless ghosts at No.17?
THE VALENTINE-FREE ZONE: The Funny One - Fiona Gibson
Ousted by her teenage son's Valentine's plans, Jenny has no idea how to spend the most romantic night of the year...
---
---