DIGITAL DOMAIN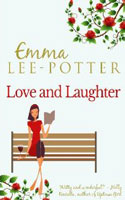 Love and Laughter is a collection of three novellas by author Emma Lee-Potter.
Beach Combing: Impoverished art history student Lara Rawlinson thinks she has the perfect summer all mapped out. She is spending the holidays in Cornwall, working for the dazzling film star Jago Dunlop. As Jago swans around film-sets and throws lavish parties, Lara is left entertaining his young son Alfie. Then one day, sunbathing on the beach, Lara is distracted by a brilliant surfer showing off in the waves. Inspired, she decides to take a surfing lesson and catches the eye of instructors Ed and Ollie. But which surfer will capture her heart - smooth-talking Ollie or kind-hearted Ed? And why are the pair at loggerheads one minute and the best of friends the next? Lara is about to find out.
Love's Hurdles: Mimi Carter is the youngest member of the British showjumping team for London 2012. Fiercely competitive and a brilliant rider, she's desperate to win an Olympic gold medal in front of her home crowd. But as injury threatens and an enigmatic old flame arrives back on the show jumping circuit, can she put her feelings to one side and realise her dream? And can she win her man and a gold medal for her country - all in the same day?
White Christmas: Everyone dreams of a White Christmas. But nobody dreams of one quite as much as Hal Benson. An out-of-work actor, Hal has been hired as a stand-in weather forecaster by a ratings-chasing news channel. Hal couldn't care less whether it rains or not. It is just a job. But then he meets Lizzie Foster. A rival weather forecaster, on a far more serious channel, Lizzie is bright, determined, fascinated by meteorology - and very, very beautiful. She is the complete opposite of Hal. And yet sometimes opposites attract. After meeting at a conference - and after a spark develops between them - Lizze and Hal make a bet live on air. Will it snow on Christmas Day? But as the big day approaches, their relationship turns out to be as unpredictable as the weather. And sometimes as stormy. Whilst everyone else is unwrapping presents, Hal and Lizzie are looking to the clouds for signs of snow. Will Hal and Lizzie overcome their meteorological differences - and find true love?
---
---