INTERVIEW
August 2014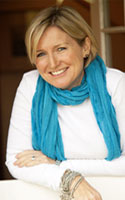 LIZ FENWICK
Liz Fenwick is the author of The Cornish House, A Cornish Affair and A Cornish Stranger. She was born in Massachusetts and after nine international moves now lives in Dubai with her husband, although her heart remains in Cornwall. (Interview by Jade Craddock)
1. How would you describe your latest novel, A Cornish Stranger, in one sentence?

It is a tale of love, loss, identity and survival set on Frenchman's Creek.

2. Where did you get the inspiration for Jaunty's story?

I was researching another book when I found the old Cornish phrase … save a stranger from the sea, he'll turn your enemy. I thought wow, that goes against what you naturally think and the story started to form. Immediately I knew the setting … a remote cabin on the mouth of Frenchman's Creek. I knew I wanted a grandmother and a granddaughter. I then began to ask myself why would someone choose to live so removed from the rest of the world. Jaunty's story came from that and from the Helford River's role in World War II. Although in the end, I chose to use less of the history of the river and to focus more on Jaunty.

3. You weave together Jaunty and Gabe's stories with beautiful snippets from Jaunty's past, how did you decide upon this storytelling approach and what were the difficulties of doing so?

This is the first story that I have written out of sequence (thank you Scrivener). Initially as Jaunty came to life in my mind she was exceptionally real and I would sit with her and she would tell me her story (in the way my grandfather used to share stories of his life with me) – which sounds odd, I know. She is old and memories would come to her in fits and starts as something would trigger them. About halfway through writing the book I realized I needed to write all of Jaunty's story of the past in rough chronological order then I could weave it through the current day narrative.

4. Given the multiple layers of the story, did it take a lot of time to plot or did it come naturally as you were writing?

For me this was always a very visual story and it was much more restrictive because of the setting. The breakthrough on plot came when I realized I needed to divide the story in half. That gave me a structure that fit the story in my head. As I mentioned above it did help to write Jaunty's past straight through and then weave it through. The writing of the rough draft took about four months but then the real work began.

5. All three of your novels have been set in Cornwall - when and how did your love affair with the area begin?

That is an easy question. In June 1989 my then boyfriend, now husband, brought me down to his parents' house, which is set above the Helford looking out to Falmouth Bay. It was a perfect June weekend with foxgloves growing from every hedge and seemed to me to be happy exclamation marks piercing the bright blue sky. I lost my heart to Cornwall then and there … a bit like Jude in A Cornish Affair.

6. A lot of great literature has been set in Cornwall, what makes it such a great setting for literature?

Quite simply there is something magical about the landscape. You cross the Tamar and you feel that you have entered a different world. I think many writers are pulled to the attractions of an almost mystical land.

7. Is there another setting that would inspire you to write a series of books?

That's a hard question. At present there is no place else that has me 'seeing and feeling' stories every visit. But I wouldn't rule out finding inspiration in other locations, but just not for the foreseeable future.

8. Do you plan on writing any more novels based in Cornwall?

Book four is set on the north side of the Helford and book five is brewing in my head and will be set on the Saint's Way which crosses Bodmin beginning in Padstow on the north coast and ends in Fowey.

9. What has been your proudest moment as a writer?

I have to say there are two. The first one came when holding The Cornish House in my hands and being with my family who had supported and encouraged me to keep trying even when I thought I couldn't do it. The second was when A Cornish Affair won the Festival of Romance Reader Award for the Most Romantic Read for 2013. I was stunned, in fact shocked because I knew how wonderful the competition was. It was so unexpected that I don't think I said more than ten words the rest of evening!

10. Your debut novel was published in 2012 - what inspired you to take the plunge?

I wrote through high school and university but then left it behind to earn a living. I only came back to writing fiction in 2004. That year I decided to do what I had always loved doing … telling stories. It took from 2004 until I found my writing voice in 2011. Once I knew what it was I found my agent and The Cornish House came out in May 2012.

11. What has been the best advice you've received as an author?

Novelist Anita Burgh has been a mentor to me and she repeatedly told me to trust my inner voice … this is the hardest and yet the most important thing to do. This inner voice isn't the one that tells me that the whole thing is crap. This is the voice that says even though it's a brilliant piece of prose the story doesn't need it or you are cheating the reader because it hurts to write that scene (the one you've skipped) but it's necessary so get in there and bleed onto the page. That voice is vital and learning to trust it is hard but it is very important.

12. What's your favourite part of the publishing process?

Holding the finished product in my hand! But the thing I cherish most is hearing from readers. It is amazing feeling to know you have touched them in some way.

13. What does being an author mean to you?

I have wanted to be an author for as long as I can remember. Not being one almost defined me. So to have reached the dream that I thought was impossible is the most incredible feeling. I mean … people read and enjoy my stories. Some days I still can't believe it!

14. If you could only advise people of one place to visit/thing to do in Cornwall, where/what would it be?

That would have to be walking part of the coastal path. It doesn't really matter which part as it is all stunning, but from the path you sense the remoteness and connectedness at the same time, if that makes sense. The sea separates Cornwall and yet it has brought people to it at the same time. Of course my favourite part of Cornwall is where we live on the Lizard.
---
---