LISA VERGE HIGGINS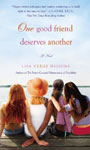 One Good Friend Deserves Another (2012)
This story centres around four friends, so closely involved in each others' lives that they will stage "an intervention" if they think someone is going off track. Such as Dhara, who has agreed to an arranged marriage to a man she only met 10 days ago - despite the others thinking she is more suited to her ex. And what would the group say if they knew that Kelly had resumed her fling with the guy who broke her heart, or that Wendy, who has her big society wedding looming, is falling for another man, or that Marta, who has just discovered her boyfriend is secretly married, wants to revisit the one that got away. This is an engaging read about the bonds of friendship.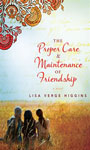 The Proper Care and Maintenance of Friendship (2011)
Rachel obviously thought she knew her friends better than they know themselves. Dying of cancer, she arranges for a letter to arrive after her death, challenging them to complete a task. For Kate who has settled into a conventional life as wife and mother, she has to confront her fear of heights and go skydiving. Aid worker Sarah is told to track down the man she has been unable to forget, surgeon Colin. And media high-flyer Jo is given the biggest task of all - caring for Rachel's seven-year-old daughter Grace. As the tasks shake up each of their lives, each woman finds herself taking completely unexpected risks. Written in honour of the author's own college friends, the characters came across as both endearing and genuine. It may just inspire you to step outside your comfort zone.

---
---