LINDA GREEN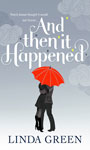 And Then It Happened (2011)
Mel lives with her childhood sweetheart Adam and daughter Maya. As their 10th wedding anniversary approaches, she thinks it is only a matter of time before the bubble has to burst. Life just can't stay this good forever! At then it happened. Adam sustains a serious brain injury at work and is left in a coma - a coma he may never emerge from. The story was partly inspired by a newspaper report Green wrote about a woman caring for her comatose husband which ensures it is a very authentic read. Touching and thought-provoking, this is undoubtedly one of the year's best books.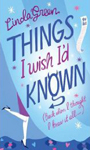 Things I Wish I'd Known (2010)
When Claire stumbles across a list she made when she was 15 about her future dream life, she realises how far she has diverted from her teen vision. Instead of being a partner of a big city law firm, her clients tend to be small-time crooks. She's also still not particularly well-endowed, she hasn't spoken to her best friend Frankie for years and instead of being married to her pin-up idol, league footballer Andy, and living in a thatched cottage in the countryside, she's already been divorced and is now reluctantly considering buying a new home with her lawyer boyfriend Mark. Told in alternating chapters between the present and the mid-80s, Claire discovers she has to face up to her past before she can move ahead with her future. The story was totally different to what I expected but in a good way and I think it is best enjoyed if you don't know too much about the plot going in. It's a touching story with a clever mix of light and dark moments. And if, like Claire, you were a teen in the 80s, you'll certainly enjoy all the in-jokes about that decade's pop culture.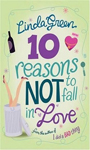 10 Reasons Not to Fall in Love (2009)
Jo Gilroy doesn't want a man in her life, apart from her son Alfie. She had her heart broken when Alfie's father, Richard, left them on his son's first birthday. Now Jo is returning to work part-time as a reporter at a Manchester TV station and Richard is not only her new boss but he's dating the gorgeous weather girl, Tricia. Believing Jo no longer has her career at the top of her priorities, Richard keeps assigning her to the And Finally stories, those light, fluffy ones at the end of the news. Then Jo and Alfie meet Dan the balloon man at a kids' Christmas function - and maybe he is just the kind of guy who can break through her objections to falling in love again. In fact, Dan's back story of his distressing home life, told through flashbacks, is one of the highlights.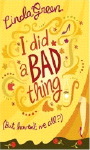 I Did a Bad Thing (2007)
Birmingham newspaper reporter Sarah Roberts is living with her schoolteacher boyfriend Jonathan, a vegetarian Amnesty International crusader. Then two blasts from her past reappear - Nick Hardwich, who she used to work with on another local newspaper, and Colin Leake, a councillor and story source from those days. In a series of flashbacks to 1997, it is revealed that Sarah first slept with Nick the night of Colin's parliamentary election - she didn't get around to voting and he lost by a single vote. She's been tormented by guilt ever since - about both events.

---
---