LINDA CORBETT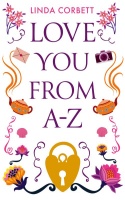 Love You From A-Z (2022)
Jenna's boyfriend has started a new money-making venture, buying up abandoned storage units to sell the contents. As she reluctantly helps him unpack the first load, she finds a letter to the original owner from a guy called Henry, asking for his belongings, including a camera, to be returned.
Jenna can't help but get in contact with Henry to return his camera and in gratitude, he takes her on some outings that push the risk-adverse accountant outside her comfort zone.
Meanwhile, her sister Evie and partner Kat run a guinea pig rescue centre but fear they will have to move out because developers have their eye on the land.
This is one of the few books I've come across where the heroine has a disability (Jenna was born with a condition that made one leg shorter than the other) and it did make me wonder why we haven't seen more of this. Or more guinea pigs in chick lit for that matter!
Overall, it was an adorable, heartwarming read and a very promising debut.

---