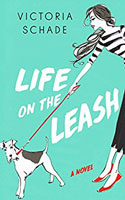 Life on the Leash, the debut novel by dog trainer Victoria Schade, is about a dog trainer who's a master at managing her four-legged friends but has a lot to learn when it comes to love.
The summary says: "Cora Bellamy is a woman who thrives on organisation. She's successfully run her own dog training business for years, perfectly content with her beloved rescue pitbull as the main man in her life. She's given everything to her business, and her lack of social life (or slobber-free clothes) has been completely worth it.
But all that changes when she meets Charlie Gill, the hottest client she's ever had. The only problem? Charlie's taken. Luckily, Cora has a new friend - the sweet, lovably geeky Eli Crawford. More loyal than a retriever, he's always there to help Cora with her problems, including her love life. That's why she's shocked to realise that even as things start heating up with Charlie, there might just be a more-than-friends spark between her and Eli, too.
As Cora's life gets more tangled up than a dogwalker's leashes - and as she prepares to audition for a dog-training TV show that may irrevocably change her entire life - she has to figure things out before it all goes straight to the dogs." Life on the Leash is out in September 2018.
TEXT