LIANE MORIARTY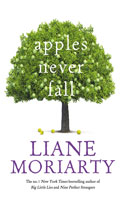 Apples Never Fall (2021)
Joy Delaney, who used to run a tennis coaching academy with husband Stan, has gone missing. Her four adult children – Amy, Logan, Troy and Brooke - did get a garbled text message from her (she's renowned for hitting the wrong keys) about going off-grid but nobody's heard from her in days and it is so out of character.
The investigating police think Stan may be a suspect while the kids believe Savannah, a girl who arrived on their doorstep one night, may have something to do with it.
This is an intriguing read about a troubled family and how their upbringing and simmering resentments continue to affect them all today. Although it's a long read, you'll keep turning the pages to find out what happened to Joy, with lots of little clues skilfully dropped throughout.

---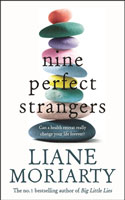 Nine Perfect Strangers (2018)
Liane Moriarty is back with another brilliant and captivating novel. At the centre of the story is Tranquillum House, a wellness resort where people go to improve their health and their minds. Nine people, all strangers, arrive to spend ten days getting massages, eating smoothies, and doing counselling. What they don't know is that they will be the first to try a new protocol created by the owner of the resort, a protocol that includes five days of complete silence, one day of fasting, and much more. As each of the guest tries to get over a loss, lose weight or save their marriage, they also start to feel that something is not completely right at Tranquillum House.
The story is told from multiple points of views which makes you feel like you have a full picture of the situation. But you also get an uneasy feeling that something bad is about to happen, something that keeps you on the edge of the seat and turning the pages. Moriarty has written another gripping and memorable story and I am already looking forward to whatever she has planned next. (NP)

---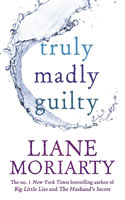 Truly Madly Guilty (2016)
An incident occurs at a backyard barbecue that has repercussions for all involved. Cellist and mother of two Clementine is feeling the pressure as a big audition looms. Her friend Erika wants to discuss a big decision she has made. With their husbands Sam and Oliver, the friends end up at Erika's neighbour's house for a barbecue with the gregarious host, Vid, and his smoking-hot wife, Tiffany.
Set amid a record rainy spell in Sydney's northern suburbs, the story alternates between the present and the day of the barbecue, keeping readers in immense suspense about what happens, who's involved and who is to blame. In fact, the build-up is so intense and you are so desperate to find out what happens, that you'll get mad at anyone and anything that stands in your way of reading more. A real test of patience! However, although Moriarty keeps the revelations coming to the end, the story does lose some momentum once the event has passed.

---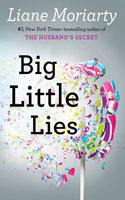 Big Little Lies (2014)
aka Little Lies
Three friends, each so different from the other, form a strong bond. Madeline is very catty and blunt but with a great sense of humour. Celeste is stop-traffic beautiful with a seemingly perfect life - she's got everything a person can dream of. Finally, there's Jane, a waif-like single mother, for whom self confidence is evasive. Everyone is struggling with their own secrets and it's all about the power "on the playground". When the secrets start coming out, lives begin to unravel and nothing will ever be the same.
What can I say, this book was brilliant! The author paints a picture of the citizens of the beachside community that is larger than life and the characters will stay with you. I can't recommend it enough! (KARM)

---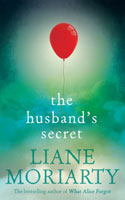 The Husband's Secret (2013)
Cecelia stumbles across a letter in the attic from her husband - addressed to her in the event of his death. When she tells John-Paul about her find and he comes home early from his business trip, her suspicions are raised. But she was not prepared for the devastating secret that the letter revealed. Meanwhile, Tess finds out from her husband, Will, that he has fallen in love with someone else and Rachel's son, Rob, and daughter-in-law, Lauren, announce they are moving to New York, taking her only grandchild away.
The stories of the three women meld together, building to a heart-wrenching climax. Then just when you don't think you can be blown away any more, the story finishes with a fantastic epilogue which makes you rethink several of the events yet again. It is no secret that Liane Moriarty is a brilliant storyteller and this novel about the repercussions of guilt and dark secrets is one of her best.

---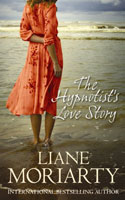 The Hypnotist's Love Story (2011)
Ellen is a hypnotherapist who works out of her home near the beach, helping people give up their addictions or face their phobias. So she is actually fascinated, rather than frightened, when her new boyfriend, Patrick, a widower with a young son, admits that he is being stalked by his former girlfriend Saskia. But what Ellen doesn't realise is she's already meet the stalker, who's been posing as a client. And Saskia is willing to risk more and more to get even closer to the love of her life.
The story - partly inspired by the author's own experiences - swings between Ellen and Saskia's points of view and examines the nature of love amid obsession and grief. There is much intrigue - first as you try to work out which client is really Saskia and then as you wonder how things are going to come to a head.

---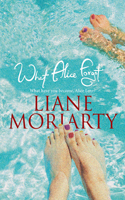 What Alice Forgot (2009)
Alice Love comes to after hitting her head in the gym - to discover that she's lost 10 years of memories. Instead of being 29 and pregnant with her first child, she finds she's a 39-year-old mother of three. Instead of being madly in love with her husband Nick, they are in the process of getting divorced and their do-me-up house is now all done up. And somewhere along the past decade it seems as if she's had a personality transplant - why is her relationship with her sister so strained, why is she the queen bee of school activities, and what on earth was she doing at the gym in the first place? As her memories slowly resurface, including the role a woman called Gina played in her life, Alice is wondering whether she took a wrong turn somewhere.
With twists and turns that will bring out both the smiles and the tears, plus a totally satisfying ending, this is one book you won't forget in a hurry.

---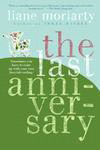 The Last Anniversary (2005)
HR officer Sophie Honeywell breaks up with Thomas Gordon on the day he planned to propose on a trip to Hawaii. He goes on to marry his travel agent and have a baby. He later tells Sophie that she has inherited his Aunt Connie's house on Scribbly Gum Island. The house is the site of the Munro Baby mystery where Connie and her sister, Rose, found an abandoned baby at their tenants' home. The Doughty family have made a tourism business out of the 'untouched' house and each year celebrate the anniversary when baby Engima was found.

---
Three Wishes (2003)
The birthday dinner of the Kettle triplets, Lyn, Cat and Gemma, comes to an abrupt halt when one of them throws a fork into the pregnant stomach of another. This book then recaps the sisters' tumultuous year of family secrets and betrayals, sibling rivalry and rekindled love that lead to the restaurant argument.