MOVIE NIGHT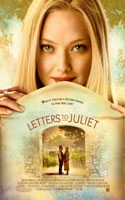 LETTERS TO JULIET (2010)
I was sure I wasn't going to like Letters to Juliet. Everything I knew about it pointed towards schmaltz and sappiness. The one, no, the two things that lured me into watching the film were Vanessa Redgrave and Italy. Give me a film set in Italy and I'm there. Give me a legend of the screen such as Ms Redgrave and I'm generally on board. So I sat down to watch it with my husband (he was certain to despise it) and, though we were a little put off at first by Amanda Seyfried's lack of energy as she portrayed Sophie, an aspiring journalist, we were encouraged by the dynamic Gael Garcia Bernal who played Victor, her restaurateur fiance.
Seyfried's energy improves on embarking upon the expedition, and she proves herself a very emotionally connected actress. As soon as the action shifted to Italy, Verona to be specific, we were transfixed. And when Sophie, on a food tasting trip with Victor, discovered the wall beneath the legendary balcony of Juliet's, where lovelorn women have been leaving their letters to Juliet for decades, we were hooked. Beyond that, a brigade of well-meaning ladies, "secretaries to Juliet," as they're called, actually collect and answer the letters every day - a wonderful premise based on the book, Letters to Juliet: Celebrating Shakespeare's Greatest Heroine, the Magical City of Verona, and the Power of Love, by Lise and Ceil Friedman. I haven't read the book but from the description, it seems as though it's a study of this incredible phenomenon which actually occurs in Verona, and it inspired the love story that the screenplay brings to life.
That story is quite sweet. Sophie finds a 50-year-old letter from a girl named Claire, who abandoned her Italian lover all those years ago, rather than elope with him. Sophie writes a reply to Claire's letter, and days later it brings the elderly woman and her grandson to Verona to track down Claire's long-lost love, Lorenzo. Claire and Sophie form an immediate bond and the older woman invites the younger to come along on the quest. The reluctant grandson, Charlie, played by Christopher Egan, continually tries to dissuade what he considers the sheer insanity of the journey, afraid that his grandmother will be disappointed. Disgusted by Victor's lack of attention to her, Sophie becomes more and more involved with Claire and Charlie's lives. Here, the story becomes rather predictable. But the trip south to Tuscany and throughout the region, the beautiful cinematography and the lively humour redeem it all. Seyfried's energy improves on embarking upon the expedition, and she proves herself a very emotionally connected actress, while Redgrave does not disappoint as the fragile but spirited Claire. Egan doesn't thrill as the cranky Christopher, but perhaps it's the character. Ultimately, the romantic story satisfies and won both me and the man in my life over. As Letters to Juliet proves, miracles do happen.

Movie reviewed by Georgina Young-Ellis
---
---