LEE NICHOLS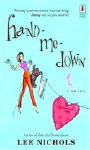 Hand-Me-Down (2006)
Anne Olsen has an intense phobia about anything that is second-hand. As the third sister behind beautiful Charlotte (a famous swimsuit model) and brainy Emily (an acclaimed feminist writer), Anne had enough of hand-me-downs during her childhood. Growing up in her sisters' shadows, she admits to being an underachiever who has drifted from job to job (she says like the Bronte sisters, the authors the girls were named after, she is Anne the unknown one). Then Charlotte's ex high school boyfriend, Ian Dunne - now an antiques shop owner - comes back on the scene, and despite having a boyfriend, Anne discovers she still has a big crush on him. Could she ever end up with a hand-me-down man?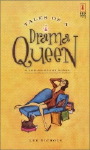 Tales of a Drama Queen (2004)
Life would be perfect for Elle Medina and her attorney fiancé Louis, if he hadn't married someone else on a business trip to Iowa. So Elle moves to Santa Barbara to be with her best friend Maya and her boyfriend, Perfect Brad, to start again. She just needs to find a job, an apartment and a new boyfriend - and avoid a credit card collection agent. But this proves rather challenging as she finds it hard to hold down a job and the only man she meets has awful red hair.

---
Also by author:


Reconstructing Brigid



Wednesday Night Witches



True Lies of a Drama Queen
---