INTERVIEW
July 2010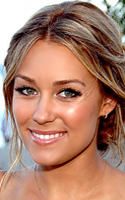 Lauren Conrad is best known for starring in MTV's reality show, The Hills. Her first novel, L.A. Candy, about a new reality TV star became a #1 New York Times bestseller. The third novel in the series, Sugar and Spice, is out in October. Conrad lives in Los Angeles and is a regular magazine cover girl, including for Cosmopolitan, Rolling Stone and Entertainment Weekly.(Interview by Angela Smith)
Photo credit: Andrew MacPherson
1. Tell us about your LA Candy series.

The series is about a young girl, Jane Roberts, who comes to LA and gets thrown into the limelight and the world of reality TV. She experiences the ups and downs of fame while still trying to stay true to who she is.

2. What's the final book in the series about?

In Sugar and Spice, the third book in the LA Candy series, Jane Roberts is a bona fide celebrity - she's got the VIP treatment, couture clothes, and starlet looks. She also has the tabloid scandals, fake friends, and relentless paparazzi. Now that Jane has weathered her first season on the air, she's learned a few things. Most importantly: Hollywood is full of people trying to use her. Like Madison Parker. Jane decides to only surround herself with people who love her for her. But when an old flame comes back on the scene, Jane's life is never short on drama.

3. Did you find the writing experience hard in general?

The first book was the most difficult to write as I was new to the process and there are so many writes and rewrites etc. Not to say book 2 and 3 were easy but they were more enjoyable as I could be creative rather than setting up characters.

4. How much of the main character, Jane, is based on your own experiences as a reality TV star?

She is loosely based on many people including me, but I always say write what you know, so I did draw from things familiar to me

5. Have you included a lot of your life experiences, even friends, in the plot?

Not a lot. I loosely took things I knew and had fun dramatizing them to make a fun read!

6. Do you think our celebrity-obsessed culture is a little out of hand?

I think there is so much that gets blown out of proportion in the media, you just have to take it with a grain of salt.

7. What do you like most about being a celebrity? What do you like least?

I do appreciate the doors that have been opened by being on television. It has allowed me to do so many things that I only dreamed of doing, and I don't take that lightly. I would like to go out and not be criticized if I am not looking perfect, but we all have our days.

8. What is your favourite and least favourite quality about yourself?

I think that I am a hard worker, and I like that I am not afraid to fail or try new things. I think that my worst quality is that I am not as organized as I would like to be.

9. What is an average day like for you?

Get up, drink coffee, feed Chloe (my dog), work out if I have time. Then I have meetings with Kohls multiple times a month, or I am designing or writing. I like to unwind with friends with a great meal.

10. What are you most proud of accomplishing so far in life?

That I have stayed true to who I am. I still have childhood friends from the 1st grade.

11. What message do you have for your reader fans?

Thank you for your support. It means everything to me.
---
---