INTERVIEW
February 2013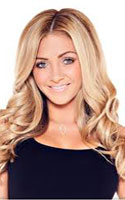 Essex Girls author Laura Ziepe had a small part in the first series of The Only Way is Essex but decided a life in front of the cameras wasn't for her – that she preferred creating drama on the written page. The sequel Made in Essex is out early 2014. (Interview by Jade Craddock)
1. How would you describe your debut novel, Essex Girls.

I would describe Essex Girls as a fun, easy read about three best friends from Essex who take a trip to the glamorous destination, Marbella. It's full of plenty of drama with revenge, heartbreak and betrayal, not forgetting vajazzles too!

2. How did you find writing your first novel?

I honestly loved every minute of it. Obviously I had no deadline, so I could work at my own pace. It didn't take too long for me to finish though as once I'm enjoying writing a story, I can't stop! I stopped watching TV in the evenings and would be tapping away on my laptop instead. My fiance had no idea what I was up to; when I first started Essex Girls I kept it a secret as I never imagined I would manage to get it published.

3. Why do you think Essex has attracted so much attention? What are its main selling points?

I think people have become a lot more interested in Essex since The Only Way is Essex first hit the screens in 2010, though there has always been an Essex stereotype dating way back to when the Essex Girl jokes were made up. TOWIE has attracted lots of attention, but it's very tongue in cheek and obvious to me that the characters are playing up to the stereotypes for comedy/entertainment purposes. Not everyone has hair extensions, fake eyelashes and a spray tan every week, but that's what you would believe if you took TOWIE seriously. Essex is just like any other place, although certain parts are well known for being affluent areas, which encourages the glitz and glamour in some aspects. TOWIE has also promoted the bars, restaurants and clubs in Essex and if you listen to the conversations of the people in the queue for Sugarhut nowadays, it's likely you'll hear accents from all corners of the UK, even as far as Scotland!

4. What are the crucial ingredients for Essex girls fiction?

I wanted to write a novel that girls could relate to with characters that they could identify with. It starts with heartbreak and betrayal, which lots of girls go through growing up when getting into relationships. The main characters are best friends in the book, but like everyone, they do have some disagreements and ups and downs, which is completely normal. I know when I worked abroad with my best friends we fell out a few times! I wanted the novel to be light hearted and not too serious; I tried to create something humorous that would make people smile.

5. Are you hoping that other writers will follow in your footsteps and make Essex girls fiction a new genre?

I'd probably prefer to be the only one writing Essex girls fiction, as I have so many more ideas for future books!

6. What did your friends think when they read the novel?

They're constantly asking me which characters they are, but all the characters are completely fictional! Having said that, I suppose there are little bits of everyone I know in all the characters. They've all enjoyed the book though and are very supportive.

7. Where did you get the inspiration for Jade's revenge on Tom - not personal experience, was it?

The part where Jade finds another phone in her boyfriend's drawer and discovers he's cheating did actually happen to me! So this part wasn't entirely made up, as I've been through the same thing myself. The revenge was just for fun though, I can assure you I never tied up my ex-boyfriend naked for everyone to find! (as much as I may have liked to!) I wanted Tom to get his comeuppance and to portray Jade as a strong character.

8. Which of the three friends in the novel – Jade, Kelly or Lisa – are you most like?

I would most probably say Jade, though there are parts of me in Kelly and Lisa too. I'm ambitious like Lisa, creative like Jade and a shopaholic like Kelly!

9. Your characters spend a lot of time in Marbella, did you head there for research purposes?

I'd actually already been for a holiday to Marbella the same year I started writing the book, so it was fresh in my mind. I've previously worked in Greece for two summers when I was in my late teens so I have experience working abroad, which helped. My cousin has worked in Marbella too, so I did ask her quite a few questions about what it was like.

10. How long did it take you to write the book?

I started after in October 2010, pretty much as soon as TOWIE hit the screens. However, I moved house in January 2011 and stopped for about 3-4 months in between. I then sat down and finished it and it was completed around September time.

11. What do you find the most challenging thing about writing?

There will be some days when I'm just not in the mood to write and I'll allow myself to get distracted easily and start shopping online or something instead. If I'm struggling to write, I usually just give myself a day off because I find my best writing comes when I'm really enjoying it.

12. What do you enjoy most about being an author?

I just love writing and making stories up. I have done since I was really young and it seems madness getting paid for something that I enjoy doing so much. I wrote the first book for fun, so being paid for it felt very strange. I love it when I can't think of anything else but writing. Sometimes I'll wake up in the middle of the night with a good storyline or I'll be doing food shopping and something will pop into my head. I think when something is on your mind that much, you know it's what you should be doing in life. I find writing a great way to relax and escape.

13. What is the best piece of advice you can give to aspiring authors?

Don't give up. Rejections can make you feel disheartened. I received some when trying to get an agent so I know how it feels. I didn't apply to tons of agents as I only sent off to those I felt I'd be suited to, but you just need one 'yes' to make it happen. I think you need to remember that its extremely competitive and just because you've been rejected, doesn't mean your writing isn't any good. When I received rejections, I looked up a website that listed some of the most successful authors who had been rejected in the past to make myself feel better (including Stephen King, J.K. Rowling, George Orwell). Imagine if these authors had given up? If you love writing, then that's what you should do.

14. You give a sneak peak of the sequel Made in Essex at the end of the book, can you tell us what's in store?

Jade and Kelly are still happy in relationships with Sam and Billy, however they both go through lots of issues in their relationships. They start their own bikini company and they discover there is a rival copying their every move. Lisa is back too, dealing with completely different problems of her own. There are some new characters in Made In Essex, and Adele is back too and more spiteful than ever! Once again there is lots of drama, heartache, smiles and tears. I think if people liked Essex Girls, then they'll love Made In Essex even more; it's better in my opinion!

15. Was the second book easier or harder to write?

I found the second book easier to write (I finished it in about 6-7 months). Once again, I had lots of fun writing it. I loved developing the characters and making up more storylines. Adele is my favourite to write about; I love getting her into more mischief and making her more conniving as the book goes on! She's a character I love to hate.

16. If you had 24 hours in Marbella, how would you spend it?

I'd wake up early and go for a nice breakfast somewhere (I'd order poached eggs on toast and some coffee). I'd then go to Plaza Beach and grab a sunbed before everyone else got there. I'd sunbathe for a few hours, then in the afternoon have a look round the shops and boutiques before stopping for a few cocktails. I'd then get my hair blow dried so I didn't have to do it myself that evening, go back to the hotel room and get ready and then back off out to have some dinner in a nice restaurant (as well as a few more drinks). I'd then hit the bars with my friends and lastly I'd find a good nightclub!
---
---