LANA PENROSE
To Hellas and Back (2007)
Imagine being offered the chance to move to sunny Greece with the love of your life, where you'd move into a great apartment and not need to work. Sounds like heaven? Well for Australian Lana Penrose, it was more a hell on earth. When her Greek-Australian boyfriend Dion gets the chance to run a radio station in Athens, she gives up her job as an MTV producer and leaves Sydney for a more ancient civilisation. But as Dion gets more and more caught up at work - even when the bureaucrats take the station off air - Lana is stuck at home without a working visa or an ability to speak Greek. Her days are spent trying to learn the language, ironing everything in sight, desperately seeking friends, plucking the hairs from her legs - and slowly getting sucked into a spiral of depression. Then Lana finally meets kindred spirits in her new gay pal, young New Zealander Tim, and American rocker Johnnie. But will her relationship with Dion survive the culture shock? This memoir about one woman's modern-day Greek tragedy takes a no-holds-barred approach in its display of raw emotion and self-deprecating wit.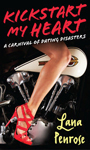 Kickstart my Heart (2009)
This picks up where To Hellas and Back finishes, with Lana heading to London after her four years in Greece leaves her with a broken marriage and her self-confidence at an all-time low. Through a friend she joins the entourage of a nice-guy Australian pop star (despite him not being mentioned by name, it's not hard to work out it's Darren Hayes). As a woman at the tail-end of her 30s who has to dive back into the dating pool, Lana finds herself embracing her inner rock chick/cougar during her dalliances with a range of unsuitable men. She also takes to stalking an author, passing her number on to Russell Brand and getting up close (well, close enough to touch his arm, anyway) with Guns N Roses' Slash. Will she ever rediscover that crazy little thing called love?

---
---