KIRSTY GREENWOOD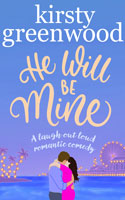 He Will Be Mine (2020)
When Nora first claps eyes on Gary Montgomery on the big screen, she immediately recognises him as her soulmate. The fact she's a reclusive virtual assistant in England while he's a rising Hollywood star is a mere blip. When Nora's exasperated sister sends her to LA to find Gary so she can put this ridiculous notion out of her head for good, this leads her into all sorts of adventures.
Greenwood has treated us yet again to a fantastically funny story, this time with a romance book-loving heroine who gets into strife for stalking a celebrity. Amid all the mishaps and laughs, there's plenty of emotional depth added through Nora's backstory and why finding that one true love is so important to her.
There's a great cast of characters - from sunny weather girl Kennedy and her grumpy screenwriter brother Brandon to the Adam Levine-singing driver. If you are looking for an instant pick-me-up during what has been a tough year, this is your remedy right here.

---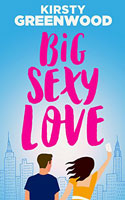 Big Sexy Love (2017)
Olive has lived a rather sheltered life in Manchester but is about to be sent on a mission of a lifetime. Her best friend, Birdie, is dying and she wants Olive to personally deliver a letter to her former boyfriend, Chuck – in New York! But Olive has never been on a plane before – heck, she has never even been to London. Taking leave from her job on a fish market stall, Olive packs her pink bumbag (or fanny pack as the Yanks call it) and hops on a plane bound for the States. And from there, everything takes a crazy turn after she meets American TV writer Seth.
Kirsty Greenwood delivers again with this story of a girl willing to go to great lengths to fulfil her friend's final wish. Olive is a true delight and every minor character adds to the zany journey. I loved the little snippets that top each chapter, especially Olive's internet searches. This is totally the book you want to pick up when you want to wind down from a tough week - it's romantic, it's heartwarming and it's a barrel (or fanny pack) of laughs!

---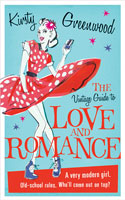 The Vintage Guide to Love and Romance (2015)
Jess Beam has a reputation as a fun-loving girl. She doesn't like commitment, in either the form of a steady boyfriend, a regular job or owning her own place. Instead she writes a lifestyle blog for her best friend and roommate Summer and she is never looking for anything serious with the guys she hooks up with. When an opportunity for her and Summer ends disastrously, Jess loses her job, home and friend. So she has to turn to the grandmother she has never known. Matilda Beam wrote a series of Good Woman etiquette books back in the 1950s but has since fallen on hard times. So when the Beam ladies are offered a book deal about how Jess uses the 1950s dating advice to lure a man, it seems to be the answer to all their problems. Only snag is her target is renowned man about town and advertising whizz Leo Frost and their first meeting sparked all her problems in the first place. So under Matilda's guiding hand, Jess trades her skinny jeans for corsets, pointy bras and dresses and transforms herself into the demure and alluring Lucille Darling. But Jess has a lot to learn about love and romance.
This is a fantastic story with scene after hysterical scene of Jess getting herself into predicaments.Jess is - despite all her faults and hang-ups - a wonderfully endearing character and the author sets up the scene well for explaining why Jess' family is the way it is and why she runs from commitment. One day this will be a vintage guide to how to write a chick lit classic. Put it on your must-read list now.

---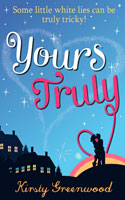 Yours Truly (2012)
Natalie Butterworth is getting married to Olly in a month and she's just had a horror haircut. Growing up with bickering parents, Natalie has learnt to be undemanding and doesn't like offending people. So as her mother and sister Dionne help organise her wedding - choosing things she'd never choose in a fit - Natalie finds it hard to stand up for herself. Then one night Natalie is at the pub with best friend and aspiring singer Meg and falls under the spell of hypnotist Brian. Now whenever anyone asks her a question, she can only tell the truth. But can the people in her life handle the truth? Natalie heads to the village of Little Trooley to track down the hypnotist before her wedding is completely ruined. She gets caught up in the dramas of the Old Whimsy pub, which is run by the rather dishy Riley.
This very funny debut will delight those who hanker after some good old-school chick lit. If hypnotist Brian put me under his spell and you asked me should you read it: I'd say "definitely!"