MOVIE NIGHT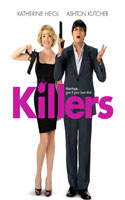 KILLERS (2010)
A film with a name like Killers is not one you'd think would necessarily be geared towards women. And yet, it's very much a romantic comedy, with a little murder thrown in for fun. The fine cast includes Ashton Kutcher, Katherine Heigl, Tom Selleck and Catherine O'Hara. Heigl plays Jen Kornfeldt, a conventional girl who's just been dumped by her nerdy boyfriend. (Minor spoiler alert.) She goes on vacation to Nice, France, with her parents (Selleck and O'Hara). There she meets hottie Spencer Aimes (Kutcher) who, unbeknownst to her, is a paid assassin. His attraction to her makes him lose his stomach for the job as their quirky romance quickly leads to marriage. The twists keep us guessing, the acting and comedy keep us entertained, and Kutcher's abs ... well enough said.
They've settled into a comfortable existence of mundane normalcy when Spencer finds his life suddenly on the line from unexpected threats. Jen, by association, also becomes a target. At this point she realises that she doesn't know the man she's been married to for three years, and their relationship breaks down. Sound a little like Mr. and Mrs. Smith? Nah. It's a film with much more heart and less than half the violence. Spencer has to protect his woman and win her love all over again. There's a real family here and real relationships that need to be fostered. The twists keep us guessing, the acting and comedy keep us entertained, and Kutcher's abs ... well enough said. Heigl has proven herself time and again to be an excellent comic actress and does so again here. Kutcher is his usual amusing self.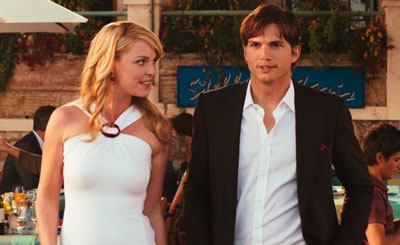 I actually think his acting is getting better and I'll bet he does a lot of the realistic-looking stunts himself. Selleck is drily funny but though O'Hara is always good, I wasn't fond of her in this role as the adorably tipsy mum. Alcoholism stopped being funny after Arthur. If you are a person who objects to any violence at all, this film isn't for you. However, there's no need to be alarmed. There's actually very little blood; the movie is much funnier than fierce - definitely one that you and the boyfriend or husband can enjoy together. Don't be fooled by the title, Killers is a real charmer.

Movie reviewed by Georgina Young-Ellis
---
---