KELLY HARMS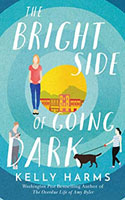 The Bright Side of Being Dark (2020)
Influencer Mia fakes her wedding after her fiance pulls the pin just days before the big day. After all she has lucrative deals with sponsors to see through and her followers would be so disappointed. Then fed up with everything, she throws her phone off a cliff and goes dark (offline).
Social media moderator Paige finds out her half-sister – a big fan of Mia's - is in trouble so takes off a road trip to see her. She figures out that all is not right with Mia's feed so she hacks into it and starts impersonating the internet celebrity. And she's surprised to find that Mia doesn't seem to notice at all.
The author deftly examines the lure of constantly living your life through a screen. For Mia, it's all about creating the perfect photo moment for her followers. And for Paige, she prefers tech over connecting with people IRL. It's a touching and well-conceived story with a socially relevant message.

---