INTERVIEW
Feburary 2009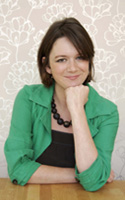 London-based magazine journalist Katy Regan used her experience of having a baby with her male best friend as the basis for her debut novel One Thing Led to Another.
What is it about Tess that will appeal to readers?

She's a fun, fly-by-the-seat of her pants kind of a girl who discovers her blagging it days are over when she finds herself up the duff by her best mate! I think getting caught out, just when you thought everything in your life was going smoothly, is a scenario so many girls can relate to - even if it's not an actual pregnancy that catches you out. She's also easily led, laid-back and very funny - even if she doesn't always mean to be - I didn't want to make her the cliched neuroses-filled protagonist.

How much was fact and which parts were fiction?

The premise was fact - I did indeed get accidentally pregnant by my best friend! Obviously the emotional roller coaster she goes through mirrors my own, but the actual plot and characters are totally fictional.

Was there a Laurence in your life?

No - thankfully I didn't have a flaky, spineless man in my life. However, I did once have a boyfriend I fancied the pants off and loved intensely, just like she loved Laurence. He was also tall and dark, although he didn't have bohemian French parents and a secret fiancee (at least I don't think he did.)

Where do you stand on the When Harry Met Sally question about whether men and women can be just platonic friends?

I think it does exist but it's very rare. Like Tess says in the book, If you get on with someone and like them enough to be your mate, if they're the opposite sex it's only a matter of time before you're 'experimenting'! I do not have one single male friend - and I have lots of them - with whom there's never been any sort of shenanigans, even if it's only been voiced and not acted upon.

What advice would you give to a woman facing a similar situation?

Even though it may seem like your life has just been turned upside down, look on the bright side, there are many positives about the situation. For starters, having a baby with someone you like and respect is more than some people have (indeed being able to get pregnant at all is more than some people have) and your child will never have to go through their parents divorcing since you were not together in the first place. You will not have to worry about your blissful love nest disintegrating when the sleepless nights set in however, be aware that your friendship as you know it will never be the same again! There will need to be lots of compromise and negotiation if it's to get stronger and survive.

So do you have another interesting real life experience that you can put into a book?

Erm...a week spent on nudist camp?! (in the name of investigative journalism I should add!) My claim to fame is also that I went to college with Victoria Beckham so . . . you never know!

What can you tell us about your second novel?

It's told in three different voices, is set partly in the north of England and in London and explores how what background we come from affects our relationships.

How important is humour to your writing?

I don't think I am capable of writing something really serious - so, very! Writing with humour makes it much more fun and after all, humour and laughter is something that bonds us, so I think it brings a sense of intimacy to a book.

Was it difficult as a mother finding time to write One Thing Led to Another?

Extremely. Fergus, my son, learned the words to The Lion King off by heart by the time he was two and a half because I would often be having to make the finishing touches to this and that chapter as he watched a DVD (oh dear bad mother!) Thankfully, his father and mine's modern set-up meant that he spent three nights sleeping at his dad's (we lived across the road from each other!) so on the mornings he was there I would get up at 6am to write before work and then again in the evening. I was constantly begging for childcare but his dad was fantastically supportive.

How did you break into the magazine industry?

I cut my teeth on local and regional newspapers but had always wanted to work on magazines and was a ferocious magazine reader. I don't think I went about it a very conventional way: because I couldn't afford to do free work experience, I just blagged it, pitching story ideas to the likes of Cosmo and Company magazine until they finally got sick of me and gave me a chance. When I got that chance, I made damn sure I didn't muck it up and so other opportunities came my way and finally I got my first staff writer's job on 19 magazine when I was 25. I went to Marie Claire two years later and stayed there, going from features writer to commissioning editor for five years.

What's the craziest assignment you've had?

The nudist camp for sure! It wasn't just a nudist beach, it was a whole naked town with naked shopping mall, bank and restaurants. It took me about a day to have the guts to take off my sarong and then it was all I could do to put my clothes back on at the end of the week. The photographer I went with turned out to be the father of my child, so we obviously felt comfortable with each other back then! I have also been a footballer's wife for a week in the name of journalism and dressed up as a man.

Who are your favourite authors?

On the chick-lit side, Lisa Jewell - she's just genius at characterisation and has such an original voice. I also love Sarah May for her utterly hilarious social comedies which are amazingly well observed. On the non chick-lit side, I love David Mitchell for his fantastically creative descriptive abilities and Hanif Kureishi for his dark wit and the sense of the unexpected in his stories.
---
---