KATY COLINS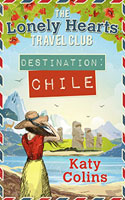 Destination Chile (2016)
Georgia is in a good place; she's moved in with her hunky boyfriend Ben and their business, travel agency The Lonely Hearts Travel Club, is only growing. Question is: where will Georgia's next trip go to? If it's up to Georgia, she's thinking somewhere romantic, the perfect place for a proposal... But when she and Ben are unexpectedly invited to take part in a TV show that includes a trip to Chile, all expenses paid, they can't possibly say no. Together with four other couples who work in the travel business, they travel to Chile to start their journey, which also includes a competition to win a big cash price. And just like previous times, Georgia's in for quite a trip.
Every once in a while I'm lucky enough to find a chick lit book series I just can't get enough of. This was the case with Lindsey Kelk's I Heart... series, the Shopaholic books, and now also with Katy Colins' The Lonely Hearts Travel Club series. Destination: Chile is the third book and Colin's just keeps on hitting the nail on the head with her stories.
Georgia is a great heroine; I've liked her and rooted for her from the start. I have to admit I was curious to see whether the author would come up with something new in this third part and she definitely did. An unexpected trip to Chile for a TV show that has a competition element to it... I don't want to say too much, but there is definitely a lot going on in this novel with several interesting aspects to the storyline to keep you wanting to turn the pages. Destination: Chile is a fun, well-written and incredibly enjoyable read. (JoH)

---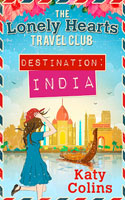 Destination India (2016)
In this second book in the Lonely Hearts Travel Club series, Georgia is flat-tack running her travel agency and wondering why things haven't developed romantically between her and business partner Ben. Their Indian tour is causing headaches, with poor online reviews, so Georgia ends up joining a tour with a group of broken-hearted tourists – under the assumed name of Louise – to find out what's going wrong.
As she visits the Taj Mahal, takes a train to Mumbai, and hits the beaches of Goa, Georgia realises that life shouldn't be all work and no play. Meanwhile, Ben has hired a new staffer and the perfectly perky Serena seems to be taking over, leaving Georgia on the outer.
The sights and sensations of India are wonderfully captured but the plot didn't seem as tight as the prequel - a scenario towards the end was about as dodgy as a Delhi-belly-inducing curry. However, I'm still on board, ready to catch up with Georgia again in Chile, and I'm hoping we may bump into Serena on the way.

---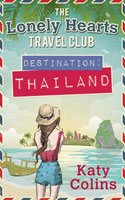 Destination Thailand (2016)
When Georgia's fiance, Alex, calls off their wedding, she comes up with a bucket list of new experiences to try. With no job to keep her in Manchester and with the proceeds from their house under her belt, Georgia takes a big gamble by heading off to Thailand alone.
The package tour isn't exactly what she expected though, although Dillon, a sexy latecomer to their group, certainly improves matters. As Georgia deals with a dodgy itinerary, unappetising local fare and bitchy companions, she starts to find her feet and gain her confidence in a strange land.
This is a solid start to the Lonely Hearts Travel Club series, with all the vivid sights and sounds no doubt stemming from the author's own experiences going from "jilted bride to travel addict". Georgia is a girl-next-door character that readers will instantly warm to. I'll definitely be packing my bags for the next instalment in India.