INTERVIEW
June 2011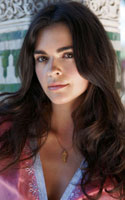 KATIE LEE
Katie Lee's debut novel, Groundswell, is released this month. She is a celebrity TV chef and author of cookbooks including The Comfort Table. She was once married to singer Billy Joel. Find out more at her website www.katieleehome.com.
(Interview by Angela Smith)
1. Tell us about your debut novel Groundswell.

A groundswell is perfectly even balanced waves caused by a distant storm, and also known as ideal surfing conditions. The heroine of the story, Emma, is married to the biggest movie star in the world, Garrett Walker. She lives a life of glitz and glamour - red carpet events, designer clothes, and celebrity friends. When her perfect world comes crumbling down around her, she escapes New York to the beaches of Sayulita, Mexico. She finds that losing everything she thought she wanted just might be the best thing that ever happened to her.... that, and a hot surf instructor.

2. What encouraged you to write a novel?

I have always wanted to write a novel, it's been a lifelong dream of mine. I have tried a few times, and just couldn't get the story right. I think I was forcing it. One day I was on the beach, and this story hit me, and I went back home and started writing. I had started surfing a couple of summers ago, and I found it to be so empowering and a real confidence booster. My love of surfing certainly was a source of inspiration.

3. Did you find the writing process to be hard?

Sure, there were days when writing was really hard, but for the most part, I had so much fun writing Groundswell. I got so into Emma and the other characters that I couldn't wait to sit down every day and find out what they were going to do next. Sometimes, the story would go in a direction I hadn't expected at first, they were like real people. When I finished writing, I actually found myself missing Emma.

4. Are your main characters, Emma and Garrett, based on anyone you know?

The characters aren't based on real people. Like any writer, I took inspiration from my own life, and I looked at mannerisms of people that I knew or knew of, and incorporated that in to make the characters "come to life," but they are fictitious.

5. How similar are you to Emma?

We both hate uncomfortable shoes!

6. What did you learn about yourself through surfing?

Learning to surf has been a great experience for me. I always thought I was uncoordinated and unathletic, and that I could never do anything like surfing, so it gave me a lot of confidence. I also find it to be therapeutic, and somehow it puts things in perspective.

7. What would you say is the hardest thing about being in the spotlight?

I honestly don't really think about it. It's easy to get caught up in worrying about what people say or write about you, and I've learned it's best not to let it get the best of you. I never Google myself, because it doesn't matter how many positive things you might read, it's the one negative that will always stand out. I don't need that negativity in my life, so I don't introduce it.

8. Do you have any advice to someone in getting over a marriage or breakup?

Find something new to try. For me, it was surfing. Trying something new, or conquering a fear, gets you out of your own mind for a while. It's good to figure out who you are as an individual after you've spent so much time being part of a unit.

9. Will you be writing any more cookbooks?

Maybe. I have an idea for a new healthy cookbook, but I also have another novel I'd like to write. I'm not sure which one will come first.

10. What do you enjoy doing most when you have free time?

I love having friends over for lunch in the summer. I always make something really easy, set up a pretty table outside, and chill a few bottles of rose. I love a long summer lunch on a Saturday afternoon.

11. What is your favourite book of all time?

Now that's a tough question! Geez, I'm not even sure what to answer. I just finished The Help and it's up there in my top five. I got so into the characters and I think Kathryn Stockett is a brilliant writer.
---
---