KATE JACOBS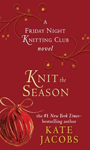 Knit the Season (2009)
This third instalment of The Friday Night Knitting Club takes us back to Walker and Daughter for the holidays. College-age Dakota Walker is struggling to find her way in the world. Torn between her blossoming career as a pastry chef and the future of the Upper West Side knitting store started by her mother, Georgia, Dakota struggles with having the life she wants while still remaining true to her mother's dream. Hoping to land an internship in the kitchen of the "V" hotel during the holidays, Dakota is stunned when her father, James, tells her he's planned for the whole family to spend Christmas in Scotland with her great-grandmother. As much as she wants to be with family for the holidays, she doesn't want to miss the opportunity for the internship, which would give her great career experience. At the same time, her head is also spinning with the news that her father has a new girlfriend and Peri, the knitting store manager, may be leaving Walker and Daughter for a new career. Dakota realises what it means to be a grown-up and has to make choices that will shape her future. This is a delightfully warm tale of family ties, the strength of friendships, and making tough life choices, and will no doubt put you in the holiday spirit. (LEK)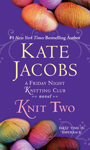 Knit Two (2008)
Six years have passed since the Friday Night Knitting club mourned the loss of Georgia Walker. Peri is running the yarn store for Georgia's daughter, Dakota, to take over one day. Dakota is now a freshman in college still figuring out her relationship with her father, James. He gets a lot of input and help from the other members of the club on Dakota's behalf. Lucy, one of the members of the club, gets the opportunity to go to Italy for work. Will the club go with her? Will James trust Dakota's decisions? I liked the first book but absolutely loved this second book in the series. It was great being able to check in and see the characters grow. (JG)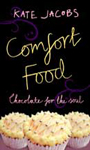 Comfort Food (2008)
Gus Simpson's Cooking Channel TV show is losing its spark, so she is paired with an ambitious, younger co-host - former Miss Spain, Carmen Vega - for a live cooking show. Their tension leads to on-air chaos as Gus' adult daughters, reclusive neighbour and others join the Eat, Drink and Be team. This has all the right ingredients for a nourishing read as Gus deals with getting older, sharing the limelight, letting go of her daughters and recovering from loss.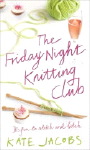 The Friday Night Knitting Club (2007)
A club develops at Georgia Walker's yarn shop, as some of her regulars gather on Friday nights to knit and chat. They include Anita, who helps Georgia run the shop and look after her daughter Dakota; Peri, a pre-law student turned handbag designer; Darwin, a grad student in women's studies; and Lucie, a soon-to-be single mother who begins filming a video on knitting and the club. Georgia's world is rocked when first Dakota's father James returns into their lives, wanting to get to know his teen daughter; and then her former best friend Cat (now a rich but unhappy Park Avenue wife) hires her to make some clothes. But as it turns out, it is at this time of her life that Georgia needs her friends the most.

---
---