KATE HARRISON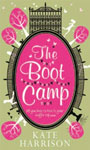 The Boot Camp (2012)
The story centres around three women who could not be more different from each other who spend six days at boot camp using muscles they didn't know existed. Darcy joined boot camp after being a war reporter in Afghanistan. Her agent wants to show she's still got what it takes to be good at her job as a newsreader. Vicki is married to Dave and has two kids. She won her place after her sister entered her into a magazine competition because she thought she deserved some pampering time. She was expecting fluffy slippers and warm bathrobes. Then there is Steph who, after being dumped by her ex, feels she needs this boot camp to show him what he's missing out on. She is very clumsy and funny in all the things she gets up to but she can't help looking after everyone else. Of the ex-forces trainers, Staff Ryan is the sweet caring one while Staff Pepper takes no nonsense from anyone, particularly tardiness. This was a lighthearted read which has every funny moment spot on. (KD)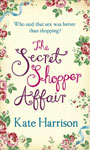 The Secret Shopper Affair (2011)
The Secret Shopper girls are back and this time it seems Emily, Sandie and Grazia are ready for new opportunities. Emily really wants a baby but her partner, Will, is on a mission to make their business environmentally friendly. When Emily enters a women's Go Globally Green contest, she finds herself up against Will's ex-fiancee Abby. Sandie and Toby are about to have a new addition to their family and should be excited about the future. But their house renovations take longer than expected and they discover Garnett's department store - Toby's family business - is losing money. Grazia is about to jetset around the world with a guy she's just met. But what will happen when he wants to introduce her to his children? For Emily, Sandie and Grazia, it's time to forge a new future but will they choose the right path or blow it? Find out in this enjoyable third book in the series which skilfully adds more depth to each character. (PP)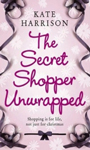 The Secret Shopper Unwrapped (2009)
We first met Emily, Sandie and Grazia in the first book The Secret Shopper's Revenge where they became Charlie's Shopping Angels. Now it's nearing Christmas and as usual all three women are suffering some sort of crisis. Newly married Emily is facing the prospect of her shop not taking off as she hoped; Sandie, who's dating an upper-class white boy and is pregnant with his child, gets an unwelcome blast from the past; while Grazia, after mourning the death of her husband Leon, has decided it's time to go out and play the field. However, there is still time for their secret shopping adventures. Emily and Freddie check out Santa grottos, and Grazia visits dermatologists and skin doctors. With Sandie becoming the boss of Shopping Angels, two new members join the team. Gramma (Sandra's grandma) puts burger joints to the taste-test while Kelly is their secret shoplifter-crime buster. Filled with laughs, tears and joy, this is an awesome read full of Christmas spirit. (PP)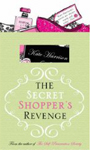 The Secret Shopper's Revenge (2008)
Frumpy new mum Emily is used to being patronised or ignored in stores - and her confidence takes another hit when her husband abandons her. Ultra-organised Sandie has a passion for retail and is shattered when she loses her store manager job. The two women are recruited to the Charlie's Shopping Angels team by glamorous widow Grazia, whose artist husband left her financially bereft. Armed with hidden cameras in their handbags, the women work undercover as mystery shoppers exposing bad service, overpushy staff, uninspiring displays and other retail crimes. And in the meantime, they become close friends and help each other deal with their own personal crises. Expect a sequel.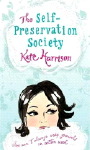 The Self-Preservation Society (2007)
Jo Morgan is a self-confessed scaredy-cat who as a schoolgirl used to stockpile canned food in case of a nuclear holocaust. Now she works for a council's accident prevention department, trying to protect the population from food poisoning, DIY mishaps and killer tea cosies. Fortunately her boyfriend Dennis shares her ultra-safe outlook on life. But when Jo emerges from a coma after a hit-and-run accident, she realises this scaredy-cat may have used up most of her nine lives and needs to live life differently. But first she needs to unlearn a lifetime of fears. With the help of fellow headcase patient, former World War II fighter pilot 'Frisky', and his grandson Luke, Jo tries to embrace spontaneity. She also has to work out why she's having flashbacks when she sniffs a smell from her past.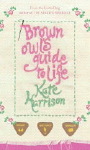 Brown Owl's Guide to Life (2006)
Just before Lucy Collins' mother Judith (Brown Owl) died, she got in touch with the women in her former Brownies unit, asking them to contact Lucy. Lucy, who is married to Andrew and has a daughter Sasha, will need a helping hand now that her mum is gone. She's been bossed around her whole life and is way too timid to follow her dream of becoming a singer. With the return of the Brownies into her life, Lucy is able to resolve why they all went their separate ways and ingest some of Brown Owl's invaluable life lessons. There's best friend Terri, who is trying to become ordained; obese Paula who is a struggling single mother; Chris who needs a new challenge after running a sex-aid business and Bethany the soap actress who is still as bitchy and mean.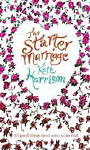 The Starter Marriage (2005)
Tess Leonard is a perfectionist whose life is in a shambles. When husband Barney leaves her for his pregnant girlfriend, Tess joins the Divorce Survival Class - a boot camp for the broken-hearted. Will the course help Tess move on?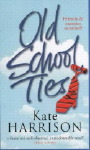 Old School Ties (2003)
Tracey was the leader of her classroom pack. Now, 17 years on, she's married to a man she doesn't want to be married to; she works part-time in a stationery store and has two kids - one of whom is having trouble with school bullies. Hoping to relive her glory days, Tracey signs up for a TV documentary about school reunions. But getting her former classmates back together proves harder than this self-proclaimed most popular student ever thought. Her ex-boyfriend Gary, now a policeman, seems to hate her; she hasn't seen her bridesmaid Melody since her wedding day; and several people seem more keen on settling old scores than chatting about the good old days. And the person she'd most like to reunite with can't possibly be there. This is a delightful story about someone discovering their school days - and reputation - weren't quite as they remembered. You probably wouldn't have wanted Tracey as your school chum but she's a great character to read about.

---
---