INTERVIEW
February 2014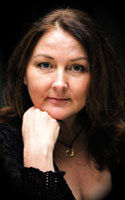 KAT BLACK
Kat Black is the author of Melting Ms Frost and has also written a number of romance/erotica novellas and anthologies. Raised in Australia, at 18 she moved to England where she now lives with her family. (Interview by Swati Sharma)
1. Tell us about your new novel Melting Ms Frost.

It's a contemporary (and very steamy) romance about a difficult young woman who doesn't believe in love. Having seen her widowed mother fall victim to a string of charming chancers, Annabel Frost has promised never to make the same mistakes herself. Sworn never to trust anyone, she's independent and career focused, and has cultivated a fearsome reputation as an ice queen in her single-minded determination to protect herself from past hurts. Everything in her tightly controlled world runs according to her precisely mapped out plans. Until the arrival of Aidan Flynn. A gambler and a risk taker, Aidan is a man who thrives on a challenge – and his uptight, red-headed boss is nothing if not that. Unfazed by her frosty manner, he senses an untapped well of passion trapped beneath Annabel's icy armour and makes it clear from the start that he intends to turn up the heat between them and melt away her cold resistance, any way he can. (And, just a word of warning, as he doesn't have any qualms about playing dirty to win, things do get rather hot!)

2. Are there any similarities between you and Annabel Frost?

I think this really depends on who you ask! For myself, I'd say, no – Annabel Frost and I are pretty much polar opposites. My dear husband, on the other hand, might insist that there are certain forthright and bloody-minded similiarities between us. But who are you going to believe?

3. Have you ever based any character on someone from your real life?

Never wholly. Although I might borrow a singular trait, a particular habit or a sense of style from someone I know or have seen to help give an extra dimension or stamp of individuality to a character.

4. How do you come up with the titles for your books?

I have to say that, along with writing blurbs and synopses, coming up with titles is something I view with the same trepidation as a trip to the dentist – which I suppose makes sense, seeing as the process feels akin to pulling teeth. That said, finding the right title for Melting Ms Frost was relatively painless as the character's name and the narrative thrust of the story allowed for an excellent play on words.

5. Why do you write romance?

Because falling in love is one of the biggest adventures of our lives. Learning the steps of the courtship dance, laying our hearts open to emotional vulnerability, taking the risk, feeling the thrill, embracing the hope. Is there a more exciting, intoxicating mix?

6. What is the biggest myth about being a writer?

I'm so glad you asked this, because since becoming a published romance author, I have to admit to being a little miffed not to find my working days vastly changed. The writing life still seems to largely feature me hunched over my keyboard in baggy cardigans and holey socks rather than reclining on a chaise with my marabou-slippered feet up, dictating my next bestseller to one of my many assistants. Oh, well…there's always next year.

7. Have you ever experienced writers block? How you overcome it?

I'm very fortunate never to have suffered a serious bout of it. With a hyperactive muse, I'm more concerned with trying to find enough time to keep up.

10. What is a usual day like in the life of Kat Black?

A usual day might find me yachting on the Med, drooling over Sachertorte in Vienna, or caught in the throes of wild, elemental passion in a cliff-top storm in Ireland. I could be busy trying to bury the past, battling a dangerous attraction, or revealing deepest secrets. The greatest thing about being a writer is that while my body is tethered, hunched over the keyboard, my imagination can fly free. And that means even the usual days are unusual.
---
---