KARMA BROWN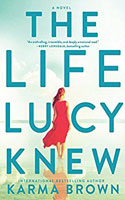 The Life Lucy Knew (2018)
When Lucy slips and hits her head, she suffers from a form of memory loss where she creates false memories. The man she thinks is her husband, Daniel, isn't in her life anymore and the guy she thinks is only her workmate, Matt, is her doting boyfriend. Lucy needs to fill in the blanks and start remembering her life as it was.
Memory loss is a common theme in women's fiction and this story delves into the premise of "honest lying", where your memories feel like real experiences but are actually false. Lucy takes the reader on a journey that uncovers a few surprises about her life. It's certainly not close to matching my favourite books about amnesia and is probably my least liked book from this author, but it's still a solid read.

---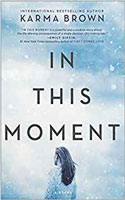 In This Moment (2017)
When realtor Meg waves a schoolboy across the road in front of her car, she never imagined lives will change in that instant. Jack is seriously injured when he's hit by a distracted driver and Meg struggles with her role in the accident, compounding the guilt she feels over the death of her best friend when they were teenagers. Meg begins to spend more time with Jack's father, Andrew, keeping him company at the hospital and helping him find a house that will better accommodates his newly disabled son.
This is a well-crafted storyline about guilt, consequences and life-changing moments that packs a real emotional punch.

---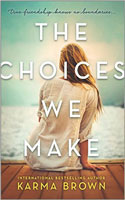 The Choices We Make (2016)
Hannah and Kate are childhood friends - Kate has two daughters, but Hannah and her husband, Ben, are struggling to have a baby. With their IVF attempts having failed, Hannah considers adoption and surrogacy. Then Kate steps forward, saying she's willing to be a surrogate with her own eggs - a generous gesture that her own husband, David, isn't so sure about. When tragedy strikes, everyone has some serious – and conflicting – choices to make.
This is a powerfully emotional story, all the more so as the author acknowledges that her own sister was a surrogate for her after cancer treatment. It's a great book for provoking lots of discussion at book club.

---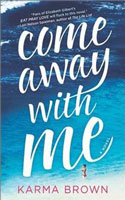 Come Away With Me (2015)
When Tegan and her husband, Gabe, are driving to his parents on Christmas Eve, a patch of black ice causes them to crash. Tegan is consumed by grief after losing her pregnancy and the chance to ever have children again. She is also so angry at Gabe, blaming him for the accident in the first place.
As Tegan struggles with depression, her husband reminds her about their Jar of Spontaneity, urging her to choose three experiences to do. Soon they are heading off to Thailand, Italy and Hawaii to tick off some bucket-list items – all the while hoping that the journey will pull Tegan back from the brink of despair.
This was a beautifully written account of dealing with a life-changing tragedy. It packs in a power-punch of emotion and the ending was simply incredible. A stunning debut that you really must read.