KAREN McCULLAH LUTZ
Karen McCullah Lutz is an American screenwriter, with credits including Legally Blonde, Ella Enchanted and 10 Things I Hate About You.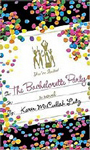 The Bachelorette Party (2005)
LA schoolteacher Zadie Roberts is left at the altar by soap star Jack. So she's not feeling particularly favourable towards weddings when her conservative cousin, Helen, and best friend Grey announce they are tying the knot. Helen's bachelorette party is destined to be a quiet affair, with a yoga class and herbal tonics on the agenda. Then Zadie convinces the teetotaller Helen to have some champagne. And from there, the night takes such a wild turn the wedding may well be off.

---
---