JULIE BUXBAUM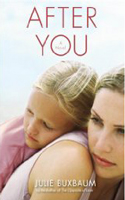 After You (2009)
Ellie is shocked to hear her best friend, Lucy, has been knifed to death walking her eight-year-old daughter Sophie to school. So Ellie leaves behind her life - and husband Phillip - in the US and goes to London to help care for her goddaughter, who has stopped talking through the trauma. As the pair share the comforts of reading The Secret Garden together, Ellie finds she needs to heal from a past tragedy as well. This is an engrossing story that taps into grief so beautifully.

---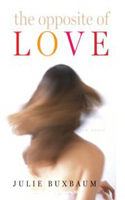 The Opposite of Love (2008)
Manhattan lawyer Emily Haxby is confused about her life. Just as her boyfriend Andrew is on the verge of proposing, she breaks up with him with that famous line: 'It's not you. It's me.' Working on a multi-million-dollar lawsuit that she morally disagrees with and trying to avoid a lecherous boss, Emily also wonders if her professional life needs a shake-up. But it's not long before she is wondering if she's made the mistake of her life. With her mother dead and her father emotionally distant, her closest ties are with her fast fading Grandpa Jack and Ruth, a former judge who lives in the same retirement home. This book has received high praise from many readers and is finely written with believable characters and emotional depth. However I'd lost interest by the second half. But maybe it's a case of 'It's not The Opposite of Love. It's me.' So the best advice would be to try it out for yourself - you may just love it.