JULIA WILLIAMS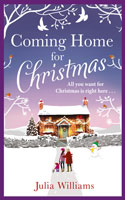 Coming Home for Christmas (2014)
This is set in the small village of Hope Christmas where three close friends all have their own issues to deal with this Christmas. Cat is a TV chef who is worried she's becoming too old for TV. She is keeping her fingers crossed she will still be able to host her festive cooking show, but at the same time she's busy taking care of her granddaughter Lou Lou. Marianne is the mother of twins, which is already cause for quite hectic days. Things only get worse when her father gets ill and her husband's ex-wife suddenly comes back into their lives in an unexpected way. Pippa knows her marriage to Dan is over but somehow she can't seem to let go. Not even her new boyfriend, Richard, is able to make her forget about her happy marriage, until Dan files for divorce. Meanwhile the women's beloved village is in danger when developer LK Holdings plans to use some land for a luxurious hotel and spa. Will they be able to handle it all and have the merry Christmas they've hoped for...? This book is actually the third part of a series, but I had no idea this was the case when I started reading it. Even though the characters have been through a lot and I sometimes had to read certain passages twice to really understand everything that had happened to the different characters, the book can definitely be read as a stand-alone. The novel has a well-drawn cast of characters at its core; I loved the switch from the points of view of Cat, Marianne and Pippa, and I couldn't get enough of each of their stories. The story has a wonderful setting, namely the village of Hope Christmas; a small village where everyone knows each other and where everyone works together to protect their home. Even though the novel is not as festive as I'd hoped it would be, it did manage to get me in a bit of a Christmas mood and long for the holidays! Julia Williams has a quick-paced, warm and detailed writing style which I personally really enjoyed. Overall, Coming Home for Christmas is a wonderful holiday read filled to the brim with a thoroughly enjoyable story. (JoH)

---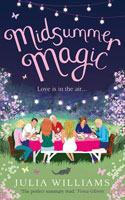 Midsummer Magic (2013)
After a surprise proposal on Halloween, eight months later Josie and her fiance Harry are heading to her parents' house in Cornwall to plan the wedding in earnest. Josie's best friend and bridesmaid, Diane, is going along too and Harry's best man, Ant, who is none too keen on the idea of his best friend getting tied down, is back from his travels in Australia to have his say. But even before they get to Josie's parents, the weekend takes a calamitous turn when it turns out that Diane and Ant have something of a chequered history. When Ant runs into TV hypnotist Freddie Puck and encourages the other three to participate in Freddie's new show, mayhem ensues and love and loyalties are tested to the limit. The book is largely indebted to Shakespeare's play A Midsummer Night's Dream and I think that a familiarity with the circularity and meandering of the play helps to somewhat temper the continual back and forths of the novel. Indeed there is a lot of to and fro in the plot and I thought it could have been less so. I liked the supporting cast of Tatiana, Bron and Puck (again mimicking Shakespeare's play) and the modern day take on this relationship. Overall I thought Williams succeeded in what is a very ambitious project of modernising Shakespeare and creating a fun, innovative chick lit novel, but I felt the plot did become a bit excessive and drawn out and I'm not sure how well it would work without knowledge of its source. (JC)

---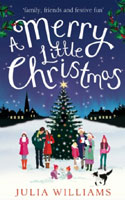 A Merry Little Christmas (2012)
Despite the title, the novel focuses not on the festive season but on a year-long period in the life of three characters, from New Year to Christmas. Cat is precariously balancing her professional life with her increasingly problematic familial duties. She expected motherhood to get easier as her four children got older but the opposite seems to be true, particularly with teenager Mel. And Cat is also worried about her mum, who she seems to be losing evermore to dementia. Pippa feels blessed for the family she has around her - husband Dan, who is a wonderful partner and father, her two boys Nathan and George, and her daughter Lucy, who despite having cystic fibrosis that leaves her wheelchair-bound, is a bundle of joy. But government cuts threaten Lucy's respite care, a vital resource for the whole family and many other families in the area. Pippa vows to fight the bureaucracy, but when Dan is involved in an accident, everything changes. Marianne is trying to settle back into work after having twins and while life at home is good, her husband's ex, Eve, starts getting more involved in her son's life and encourages him to try out at a prestigious choral school, which would mean leaving home. This is a sequel to Last Christmas and perhaps this explains in part the otherwise mysterious, and rather superfluous, part of Michael Nicholas, who turns up at the start of the novel, is implausibly on hand throughout dispensing pearls of wisdom to the three women, and rides off again at the end of the novel. Although it was intended to deliver a bit of magic and fit in with the festive theme of the novel, I did feel that Michael's presence was unnecessary. Whilst I liked elements of the novel, I felt that some stories were a lot weaker than others and the novel seemed to move quite slowly. I must admit I was also quite disappointed with the ending of Pippa and Dan's story which seemed to me to undo the whole festive fabric of the novel. Nevertheless, there is much to get into in this novel and perhaps reading Last Christmas may be the way into it. (JC)

---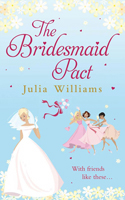 The Bridesmaid Pact (2010)
Around the time of Prince Charles and Diana's wedding, four young girls - Dorrie, Caz, Beth and Sarah - all promised to be each other's bridesmaids. All four one, and one four all. But they have never ended up fulfilling their pact. Caz, who vowed never to get married, somehow ended up in a Las Vegas chapel after a drunken night. She also fell out with both Sarah and Beth, and never ended up being their bridesmaids. Now it's Dorrie's turn to get married - and she's planning a Disney-princess-inspired affair. Will the girls be able to overcome their differences to all stand by her on her big day? And will she share with them her fears about her future? Meanwhile Sarah is wondering if her marriage has run its course and Beth is desperate for a baby. This is an enjoyable story about how friendship evolves through good times and bad. Readers will need to pay attention though as it does jump back and forth across time zones and from character to character.

---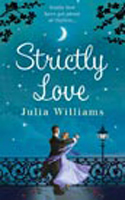 Strictly Love (2008)
This is about two sets of friends who meet at ballroom dancing classes. Emily is an entertainment lawyer who feels guilty that she is not out defending a more worthy cause. Her friend Katie is feeling the strain of being the perfect mother and wife - especially with husband Charlie being away so much. Teacher Rob finds dancing is the best way to pick up women. He ropes newly single dentist Mark into coming to dancing classes with him where they pair up with Emily and Katie. Only trouble is none of them have been totally honest about their lives off the dance floor. Throw in a litigation-happy celebrity with rotten teeth and some life-changing revelations and you're in for an enjoyable read.

---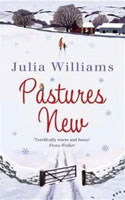 Pastures New (2007)
Amy still feels lost without her late husband Jamie, so she and her young son, Josh, move to the Essex countryside - a move she and Jamie had intended to make one day. Despite Josh missing his grandmother Mary, Amy soon settles into village life, working as a gardener with Saffron, tending the allotment plot left by her landlady Caroline and trying to work out if she's ready to find love again - with doctor Ben. Meanwhile, Saffron is trying to spice up her marriage to Pete, while her ex Gerry plays havoc with the kids' visitation arrangements. This is a lovely, feel-good story about moving on - perfect to while away an afternoon.