JOHANNA EDWARDS
Your Big Break (2006)
Communication specialists Dani Meyers started working for Your Big Break Inc, which arranges relationship break-ups, after her fiancé dumped her on live radio. But she can't seem to follow her company's rules, especially the one about not getting personally involved. But could you end a relationship with a guy whose father has just died or tell your father that his mistress wants to end it?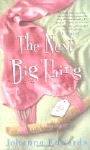 The Next Big Thing (2005)
Overweight PR agent Kat Larson tries out for reality TV show From Fat to Fabulous, where the women contest to see who earns the most money by losing weight. Nick, the British journalist she's been dating online (and who thinks she's a size 4 - she's a 16), is a surprise guest on the show. But Kat, who has been branded by the media as Kat the Brat, falls instead for the show's host Jagger.

---
Also by author


How to Be Cool
---