JODI GIBSON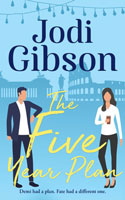 The Five Year Plan (2021)
All Demi wants is to take over her father's Italian-style cafe in Melbourne. But when he announces that it will be passed to her older brother instead, Demi decides to head to Italy to get some breathing space while she reconsiders her life plans. She will work in the trattoria run by her father's estranged brother and learn from their authentic cooking traditions.
Once there, she gets to know the dreamy Leo, whose family has been engaged in a feud with hers for decades.
This was a sweet escapist read about broken dreams and forbidden love, with plenty of great food and scenic settings in the mix. Perfect for the armchair traveller!

---