JENNY COLGAN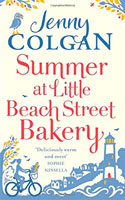 Summer at Little Beach Street Bakery (2015)
Polly's life seems to be right on track. She has her job at the Little Beach Street Bakery, her adorable puffin Neil, a lighthouse that she calls home and her ever-reliable partner Huckle. But when the bakery owner dies and the business falls to her nephew, Malcolm, it's all change at Little Beach Street and everything that Polly holds dear is under threat. Having lost her job, released Neil back into the wild and let Huckle go back to America to save the lighthouse, Polly is left to hold the fort, not knowing when, or if, she'll ever get back what she's lost.
This was my first trip to Colgan's Mount Polbearne and it's a really lovely setting, and the action is easy to pick up without having read the prequel – Little Beach Street Bakery. There's some delightful characters in here too, not least Neil the puffin, and whilst I liked Polly and Huckle, it was the cast of additional characters that really added the colour and vibrancy to the book.
The plot wasn't as notable for me and felt a bit piecemeal, especially the period of Huckle's absence, but it's nonetheless a pleasing read and the finale is full of drama and intensity. Colgan throws in some really memorable scenes along the way and has an easy and relaxing style. Now where can I adopt a puffin?! (JC)

---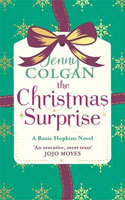 The Christmas Surprise (2014)
Rosie Hopkins is back and still coming to terms with Stephen's proposal, that is until a new priority emerges in their lives - a baby. Although things don't go to plan, Rosie and Stephen end up with a beautiful baby boy, now they've just got to get used to being parents, all under the watchful eye of a suspicious social worker, ironically named Joy, and with the difficult task of managing the expectations of Stephen's mother and finding somewhere suitable for the new family to live. Then there's the matter of friend and colleague Tina's wedding, which of course doesn't go off without a hitch and the return of Stephen's egomaniacal sister, Pamela.
Although the title may suggest that this book concentrates on Christmas, it's actually narrated across a year, culminating with a lovely Christmassy ending when Rosie and Stephen get their own Christmas miracle. Charting a year does make for some issues with pace in the novel, and at times it felt as if it was on fast-forward, jumping frenetically from one scenario to another without always giving the expected attention or drama.
However, it's the characters that make this story, from Rosie and Stephen to lovely baby Apostil, to the seemingly peripheral characters who are wonderfully depicted, including demon dentist Roy and earth mother Hester. All play their parts perfectly. There's plenty of warmth and humour to boot, as well as some nice touches from the author, including a summary at the start of the novel to recap on the previous books in the series so readers new and old can jump straight in, so there's no excuse not to pick up this book. (JC)

---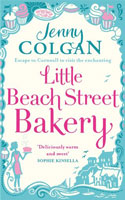 Little Beach Street Bakery (2014)
When Polly's business with partner Chris goes under along with their relationship, she is forced to move to a more affordable location. She finds the remote island of Polbearne, and rents a dilapidated old flat above a closed-down bakery. After some mishaps with the locals, she immerses herself in her hobby of baking bread to distract herself from the failures in her life, and soon the locals are warming to both her and her delicious creations.
I love Jenny Colgan's writing - she has a knack of creating characters that really jump off the page, and the ability to have numerous irreplaceable secondary characters that are just as lovable as the main protagonist. Polly was great, and I enjoyed going on a journey with her to find herself again. Huckle, Tarnie and Mrs Manse were engaging characters with surprising stories that kept the plot fresh, interesting and at times heartbreaking.
But the real winner of this story, for me, was Neil the puffin. What a lovable little guy, and a great addition to the story. Colgan has also included some delicious recipes at the back for readers to try out, and quell the hunger for bread you will inevitably get when reading this book. (LO)

---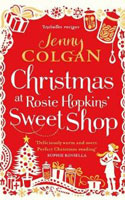 Christmas at Rosie Hopkins' Sweet Shop (2013)
After a year of living in Derbyshire running her sweet shop, Rosie Hopkins is looking forward to spending a cosy Christmas with her boyfriend Stephen, and when she gets round to telling him, her family, who are flying over from Australia. Life couldn't be better, except that Rosie is struggling to form a relationship with Stephen's mother and she shudders at the thought of the arrival of her own chaotic family. Stephen appears to have his own issues to deal with, which he is keeping close to his chest, and Christmas is starting to look rather stressful. A tragic event hits the village with far-reaching consequences, not least the potential closure of Rosie's shop. Will the community and Rosie be able to overcome the tragedy and be able to enjoy this Christmas and look to the future?
This is the sequel to the very popular Welcome to Rosie Hopkins' Sweetshop of Dreams and definitely does not disappoint. The original characters are here, including I am glad to say, her aunt Lillian, along with a few new ones. I enjoyed the development of the relationships, and found the dialogue between Stephen's rather stuffy mother and Rosie's somewhat brash mum absolutely hilarious.
I did question whether the author could match the first book, which is a firm favourite of mine, and she has! A great Christmassy read; with wonderful characters and the reader gets the true sense of a community pulling together in a crisis. (EH)

---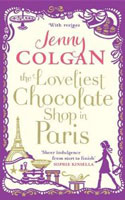 The Loveliest Chocolate Shop In Paris (2013)
Anna Trent feels like she'll never be whole again after a disastrous accident at work leaves her in the hospital for ages. However, fate intervenes in the form of her former French teacher, Claire, who becomes her closest friend during her recovery. Claire insists that Anna go to Paris to work in a world-famous chocolate shop, though Anna has her reservations about the idea. Once she arrives in Paris, Anna is overwhelmed by the city and her small flat shared with a flamboyant man named Sami. Working in the shop at the crack of dawn is the only thing that keeps her going but when disaster strikes, can Anna pick up the pieces without letting everyone down?
Once again, Jenny Colgan has created a delectable novel filled with quirky characters and a beautiful backdrop. Her knowledge of Paris and chocolate will make you feel like you're right there alongside Anna in the shop or exploring the city. It's a great story about finding yourself and realising that no matter how much you feel like no one could love you for you, sometimes it just takes you loving yourself first. (AS)

---
Christmas at the Cupcake Cafe (2012)
Issy Randall is back for Christmas at her quaint Cupcake Cafe but will things be the same when her boyfriend, Austin, is sent to New York for work? While Issy couldn't be happier that it's Christmas and time to start baking delicious holiday treats for her customers, the absence of Austin and the fact that he may not be coming home weigh heavy on her heart.
Obviously, Issy can't leave the cafe that she's worked so hard to build. In addition, Pearl and Caroline, though competent workers, couldn't possibly hold things together while Issy was away. But sometimes you just have to have a little faith in your friends and the universe as a whole. Will Issy and Austin make things work or is their fairytale romance finally over?
This is another great read for those who met and loved Issy the first time around. Even if you didn't read the original Cupcake Cafe novel, you can still enjoy Issy and friends in this one because it can easily stand alone. It's a heart-warming Christmas book that will have you rooting for Issy to figure out what she wants most! (AS)

---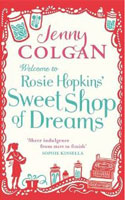 Welcome to Rosie Hopkins' Sweetshop of Dreams (2012)
Rosie Hopkins was fairly happy with her life in London. She had a long-term boyfriend, a job and a place to call home. She never thought about leaving and was reluctant to do so, but her frail Aunt Lillian needs her help and since there is no other family in the area, Rosie must head off to the country to sort out Lillian's sweet shop. After a seemingly endless bus ride, Rosie arrives in a quaint town that looks as it if has been the same for generations.
There are no signs of big department stores or grimy streets, just small family-run businesses. It's such a drastic difference from Rosie's London life. Lillian is a little frosty at first, not wanting to admit she needs any help. However, she does need it and Rosie can see it. What she can't see though, is how much the few weeks she is planning on spending in the country are going to change her and her outlook on life or how many mishaps she'll get into in the process.
Written with flashbacks to Lillian's World War II childhood, where the sweet shop was bustling with children, this is a novel that will bring back memories and make you want to pop out and buy some nostalgic sweets (or better yet, you can make them yourself with the included recipes). Rosie and Lillian, along with the rest of the colourful characters they encounter throughout the story, are perfectly cast against each other. It's hard to imagine a better-written novel with its perfect blend of the past, the present and the future. As a result, it's definitely a story that will stay with you long after you've read the last page. (AS)

---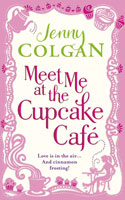 Meet Me at the Cupcake Cafe (2011)
When Issy Randall is made redundant from her job - by her boss who she has been having an affair with no less! - she decides to start over and embark on a career that will make her happy. The fact that she was given a very good sum of money as part of her redundancy package helps Issy to see her dreams come true in the form of The Cupcake Cafe. Issy has a true gift and that is to bake amazing cakes like no one else.
Though the cafe is her dream, Issy finds it isn't an easy road. She needs to file endless paperwork, get up at the crack of dawn every single day and not take home much money for herself after she pays all her suppliers and staff. Despite all of that, Issy finds she is happier than she has been in ages. So, when her old boyfriend and former boss comes swinging back into her life and says he wants to rekindle their relationship, she jumps at the chance even though he treats her horribly. By going back to Graeme, is Issy setting herself up for heartbreak again - and maybe even the loss of her beloved cafe?
This is a wonderful novel, filled with decadent cupcake recipes that might make you want to stop reading and start baking. If you have always wanted to follow your dreams but thought it was impossible, then maybe you can get some inspiration from the spirited, fun heroine of this lovely novel. (AS)

---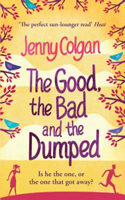 The Good, the Bad and the Dumped (2010)
During a mountain hike, Posy's personal trainer boyfriend Matt pops the question. But not long after saying yes, Posy starts having doubts about her impending nuptials - and wondering whether she and Matt have enough in common to carry them through a lifetime together. With a psychotherapist mother vehemently opposed to marriage, Posy still carries baggage from her significant other relationships.
So with the help of Facebook, Posy decides to track down her exes. As she secretly heads off to remote Scotland to see her college sweetheart Chris and catches up with the non-committal yet dashing Adam, Posy realises she really needs to find the guy who broke her heart - she still can't even bring herself to say his name. But as she spends time coming to terms with her past, it seems her future with Matt is on rocky ground.
This is neither good nor bad. The plot didn't quite live up to expectations nor did Colgan's wit really shine through. But even though Posy is not a particularly memorable character, many readers may relate to the journey she is on.

---
Diamonds are a Girl's Best Friend (2008)
Life changes drastically for rich party girl Sophie when her father dies and according to the terms of his will, her stepmother casts her out to survive on her own for six months. Sophie moves into a rundown house on Old Kent Road, sharing with four guys - artists Cal and Eck, soldier James and student Wolverine. Because she can't pay the full deposit or utilities bills, she becomes their cleaner "Cinders" and starts working as a photographer's assistant. A funny, sparkling tale of one girl's journey from riches to rags.

---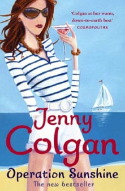 Operation Sunshine (2007)
Evie, a receptionist for Harley Street plastic surgeons, is just thinking that she needs a good holiday when her bosses invite her along to their medical conference in Cannes. What a perfect location for a glamorous holiday! Also coming along for the ride are her good friend Bailey, who's involved in her doctors' big secret project, another backstabbing receptionist, plus Evie's bullying brother and his gorgeous wife.
Only problem is she's flying economy and staying in a fleapit of a motel while everyone else is living it up in luxury. With secret rendezvous and offshore shenanigans, it definitely turns into a holiday like no other. Unfortunately, it's not really a plot that would make you want to miss the inflight movie.

---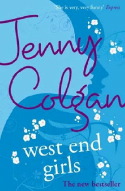 West End Girls (2006)
Lizzie and Penny are twin sisters (but complete opposites) who live dowdy and unfulfilling lives. Penny dreams that one day she will be rescued from her unsatisfactory life while Lizzie is quite happy eating crisps on her mother's couch. When their grandmother, who had all but forgotten them, is admitted to hospital, the girls are given the task to house-sit her fancy West End apartment which provides the opportunity to start a new life. Life in the West End is harder than they thought and the boys are just as difficult. Set in Chelsea, England, this is a feel-good, entertaining novel that has all the favourite elements such as love, transformation and most importantly a happy ending with a twist. (GF)

---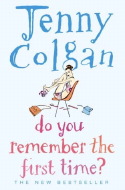 Do You Remember the First Time (2004) also known as The Boy I Loved Before
As her best friend Tashy cuts into her wedding cake, 32-year-old Flora realises she's disillusioned with her life. So she wishes that she could go back to age 16 and do it all again. The next day, she wakes up in her childhood bedroom as a teenager. Can Flora get things right this time round, including preventing her parents' divorce, standing up to a bully and getting together with her high school crush? And will she want to resume her normal life?

---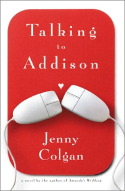 Talking to Addison (2001)
Holly Livingston is a "freelance florist" (which is her flowery way of saying that she is in-between jobs). Being a general under-achieving "free-spirit", she is always stuck sharing a flat with the most outlandish people. But the need to escape the nightmare of flat-hopping pushes Holly to the verge of desperation and even the coffin-sized box room in a flat shared by her old college friends Josh and Kate seems palatial to her.
Josh is a legal assistant who is perpetually confused as his sexual orientations always keeps changing. Kate (who never misses a chance to wind up Holly) is an uptight, uber-successful workaholic, who has a knack for getting into relationships with married men. However, it's their fourth lodger - the gorgeous ("Johnny Depp in geek form"), mysterious Addison who has Holly reeling. But for the elusive Addison, life revolves around computers, Star Trek and his overweight internet girl friend Claudia who lives 4000 miles away.
The story encompasses Holly's quest to hook up with Addison who doesn't even remotely reciprocate her feelings. With her trademark humour, quirky gags and sarcastic observations, the author has whipped out a light-hearted and amusing story about the complexities of romance. (PD)

---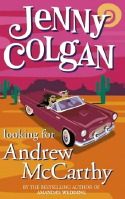 Looking for Andrew McCarthy (2001)
Ellie is throwing herself an 80s-themed party for her 30th birthday and she wants to know why her life hasn't turned out to be like a John Hughes movie. She has just caught Billy, her saxophone-playing boyfriend, cheating on her (but he isn't as charismatic as Rob Lowe), she lives in a dingy flat with an appalling flatmate she calls Big Bastard (it looks nothing like Demi Moore's loft in St Elmo's Fire) and to top it all off she hates her job.
Deciding that she really needs some answers from her Brat Pack crush Andrew McCarthy (remember Pretty in Pink, Mannequin and Weekend at Bernie's), Ellie pleads with her friends to join her on a quest across the Atlantic to find the low-key actor. A madcap adventure ensues, which begins with her telling her boss Mr Rooney (Ferris Bueller's Day Off, anyone, anyone?) to stick it, and sees her ringing all the A. McCarthys in the LA phone book.
A must-read for Gen Xs who will love all the cultural references, from the Footloose-like highway near-miss to the Lost Boys-inspired policemen.

---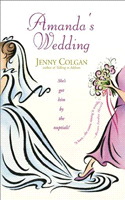 Amanda's Wedding (1999)
How would you behave if the best man is the groom - and you're not the bride? Mel, Fran and Amanda are old school friends but Amanda seems to lead a more charmed life - and she sure loves rubbing her friends' noses in her success. Now she's getting married to Fraser, a Scottish laird who Mel had a crush on during university. So the bridesmaids set out with the groom's brother to sabotage the wedding.