INTERVIEW
June 2010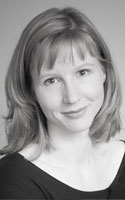 JANET SKESLIEN CHARLES
American Janet Skeslien Charles' debut novel Moonlight in Odessa about eastern European mail-order brides was inspired by a trip she made to the Ukraine as a Soros Fellow. She now lives in Paris with her husband. (Interview by Carissa Chesanek)
1. Tell us about your debut novel Moonlight in Odessa.

Moonlight in Odessa is about a woman who wants more from life – at work, in her romantic relationships, in her hometown – and she goes on a journey to try to find a better life.

2. What inspired you to write this story?

In my native Montana, I met foreign women who married Americans in hopes of finding a better life, and I thought that they were incredibly brave. I studied Russian at the university and then worked in Odessa, Ukraine, for two years, where again, the women were brave and resourceful. I wanted to write about this courage.

3. Can you relate to your characters?

Absolutely. We all want to find a satisfying job, a great relationship, and friends. We want to be happy. At some point, I think most of us wonder if there is more out there, and we move or change jobs or go back to school to find what we are looking for. Of course, sometimes we find what we are looking for in our own backyards…

4. What did you learn about mail-order brides while working on this novel?

I have been researching mail-order brides for articles and was surprised to learn that the first mail-order brides arrived from England in 1620. They were called 'Tobacco Brides' because when they married, their husbands reimbursed the cost of the voyage with 120 pounds of fine leaf tobacco.

5. How long does it take you to complete the book?

It took two years of pure obsession to write this book.

6. Did it take you long to get it published?

My agent had two strong offers from publishers very quickly. After that, it took another seven months for me to edit the book. It was hard to let go – I would still be changing things if there hadn't been a deadline. The book came out nine months after that.

7. How did you get into writing?

I have always been an avid reader and writer. I was on the board of a literary magazine and led a weekly writing workshop at Shakespeare & Company, a bookshop in Paris. This was a way to have my work critiqued and to meet other writers. I have been writing for Odessa for 10 years, trying to make sense of my time there. This book is not my first book-length project. It is the first that attracted any interest.

8. What are you working on at the moment?

I'm working on personal essays and an article about mail-order brides in America.

9. What are your favourite chick lit books?

I recently read Miss Pettigrew Lives for a Day by Winifred Watson and The Priory by Dorothy Whipple and enjoyed them tremendously.

10. What's been the best and worst thing about being an author?

The best thing is to be able to create stories and to hear from readers, both male and female. I have been incredibly touched by the people who have taken the time to let me know that they enjoyed my work. The most challenging things for me as a novelist is working from home and the many interruptions that make it hard to focus on work. I dream of an independent office but rent in Paris is through the roof...

11.What does chick lit mean to you?

I think in the best sense, chick lit means a satisfying story with an endearing heroine who deals with things we all struggle with - finding love and a satisfying job; balancing friends, family, and work; and making difficult choices and dealing with the consequences.

12. How did you feel when you heard you made the shortlist for the Melissa Nathan Romantic Comedy award?

I felt incredibly honored to have been nominated.

13. What message do you hope readers will take from your books?

I hope that there is a message of hope and that we all have the same desires and dreams, no matter where we are from. I also wanted to show that anyone can go through depression or be a victim of abuse. Some readers have critiqued the plot of the book, stating, 'Daria is too smart to become a victim'. I worry that some people think that only dumb people are victims of domestic abuse. This can happen to anyone. I hope that I showed how a controlling spouse can whittle away at a smart, talented woman's self-esteem over a period of time. I hope that I showed that though it is hard to leave, moving on can work out for the best. There are always options.

14. How does humour play a role in your writing?

Odessa is the humor capital of the former Soviet Union, so humor was an important element in the book. I think that it is important to balance darkness with light, tragedy with comedy. Odessans use humor as a way to deal with difficult issues. Though the book had dark moments, it is my hope that the humor keeps the book from being too heavy.
---
---