JANE SANDERSON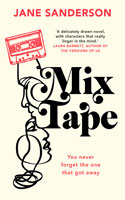 Mix Tape (2020)
Daniel and Alison bonded over their love of music in Sheffield, England, during the late 1970s, and he even made her a mix tape she cherished. She enjoyed spending time with his family, especially because her own home life was a disaster, with a mother who was constantly drunk. One day Alison leaves Sheffield without letting her boyfriend know why.
Decades later, Dan - now a music journalist - discovers Ali is a successful author living in Adelaide, Australia, so he sends her a link to a song. She responds with another song, and so they find themselves bonding over music again. But now they are both married with kids.
This is an evocative story about a second chance with a first love. It's hugely nostalgic for those who remember the music - and mix tapes - of the time. It even comes with its own playlist.