JANE GREEN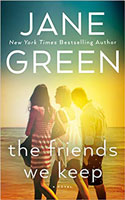 The Friends We Keep (2019)
Maggie, Evvie and Topher became firm friends at college but life since has seen them drift apart. Maggie marries Ben, the guy she had a crush on all throughout college, but she is struggling to keep up the façade of their perfect marriage because of his drinking problem. Meanwhile Evvie and Topher move to New York, where she becomes a supermodel and single mother, and he scores a role on a TV soap.
Delving into life choices, secrets and forgiveness, this novel takes readers through more than three decades, from their student days, right through to the present time when the trio reconnect at a college reunion. It's a lovely, heartfelt story and I really enjoyed spending some time with these characters.

---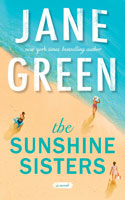 The Sunshine Sisters (2017)
Hollywood actress Ronni Sunshine admits she wasn't a good mother to her three daughters but she summons them home to help her end her life before a terminal illness takes its toll. None of the sisters are particularly close to each other or their mother but do reluctantly return home.
Oldest daughter Nell has found her passion managing a farm but has not had a serious relationship since she broke up with the father of her now-adult son. Meredith moved to London to get away from her mother's putdowns and now has a fiance no one likes – maybe not even Meredith. And the spoilt youngest daughter, Lizzy, has made a name for herself running a successful catering company in New York but feels that, like her mother, she too lacks any sort of maternal instincts.
This story is all about a dysfunctional family and forgiveness. It focuses more on the sisters and their issues and doesn't get particularly melancholy about Ronni's impending death. In fact as a character, Ronni stays more off-stage than on, even though her failings as a mother fuel the storyline. Well worth a read.

---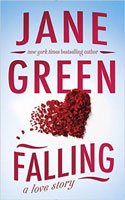 Falling (2016)
After abandoning her lucrative banking career, Emma heads out of Manhattan for a quieter life in Westport. She moves into a place that needs her keen interior decorator eye, next door to her landlord, local bartender Dominic. Emma finds herself falling not only for the laidback Dominic but also his young son, Jesse, who has been growing up without a mother.
The setting of an Englishwoman in Connecticut immediately makes you realise this is a Jane Green novel (the author is a similar transplant). But for most of the book I didn't get the feeling this was indeed hers – the story meandered a lot, the conflicts didn't really build and the emotional punch came very late in the piece.
The saving graces were the heart-warming relationship between Emma and young Jesse, and the fact the ending was unexpected (although a hint of what happens at the start might have given it a more cohesive feel, rather than appearing like it was just chucked in to get the book over the finish line). Overall, this one fell a bit flat.

---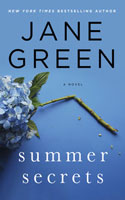 Summer Secrets (2015)
Cat Coombs never felt like she was a part of her family. Her mum suffered from depression and her father treated her as if she was never good enough. Cat turned to drinking early on, she could out-drink a lot of the boys she was around and loved the way alcohol made her feel. The morning after another wild night, Cat has the worst hangover. But her mum wants to meet her and tell something important - that her late father wasn't really her father and she has another family in Nantucket.
Cat is so excited to visit the US to forge a bond with her father and half-sisters but then something happens that Cat can never take back. She's asked to leave Nantucket and to never come back. Many years later, having given up the drink, can Cat restore the relationships that she has broken? Or will she forever feel regret and loss?
Told with plenty of flashbacks, this is another great story by Jane Green - a real page turner! (CG)

---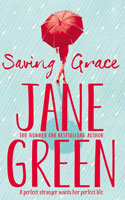 Saving Grace (2014)
Grace appears to lead an enviable life with her husband Ted, a best-selling author, and works as a chef at a charity home for troubled families. But behind the scenes, Ted's books aren't selling so well anymore and Grace has to deal with his terrible mood swings. With his long-time assistant having stepped down to look after her ailing mother, they are on the lookout for a new helper.
When they meet Beth at a function she seems perfect, a godsend who quickly organises not only Ted's life but Grace's as well. But there is something about Beth that makes Grace uneasy.
This is another darker tale from Green, a psychological drama about a woman who feels she is losing her grip not only on her household and marriage but her sanity as well. It features recipes at the end of some chapters, which seems a mismatch for the book's overall disturbing tone.

---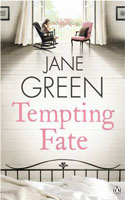 Tempting Fate (2013)
Gabby is a forty-something mother to Olivia and Alannah and is happily married to doctor Elliott. Life as she knows it is good. Except for her desperate yearning for another child; a yearning her husband doesn't share. On a girl's night out, Gabby meets young, successful and handsome Matt at a sleazy singles' bar. Clear in the knowledge that she loves her husband, Gabby still cannot stop obsessing about the adorable Matt. Her obsession takes control of her, that is, until she makes a mistake that may destroy her idyllic life. Are some mistakes too great to overcome?
Jane Green delivers heartbreak and happiness but this book is not her best. (LF)

---
The Accidental Husband (2013) aka Family Pictures
Sylvie is facing empty-nest syndrome as her daughter, Eve, is about to head off to college. With her husband, Mark, travelling a lot with his business, Sylvie considers rediscovering her creative side. Maggie lives on the opposite coast, and has a charmed life, that is until a stranger comes into her home and reveals a secret that shatters everything.
This is one of those stories where it is best if you don't know too much going in. You will no doubt work out what is coming but the story will keep you turning the pages to see what goes down when the shit hits the fan. With plenty of pathos, this is an engrossing read with most of the emotional punch delivered through the sad side story involving one of the daughters.

---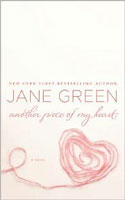 Another Piece of My Heart (2012) aka The Patchwork Marriage
The premise of this book may sound like a familiar story about stepmoms but it is a deep and well-written piece of work which subtly explores the inherent complexities and insecurities found within a stepfamily arrangement. Andi meets Ethan through an online dating site. They eventually marry, and she becomes the stepmom of his two daughters. The younger one, Sophia, now 13, is amiable and relaxed with the new adjustments to the household.
However her 17-year-old sister, Emily, holds a grudge towards Andi. Emily's relationship with her alcoholic mother is also fractured, and she is finding adolescence tough, which explains why Andi has become the scapegoat for the teen's pent-up bitterness and snarky comments. Ethan, sandwiched between both parties, becomes overwhelmed as he juggles his parenting responsibilities and marriage. Amidst all this complex family ties lies the central plot of Andi's struggle to have her own child.
With brilliant characterisations and great family drama, this is the kind of story that leaves you thinking. (XT)

---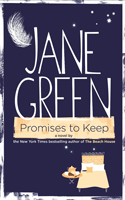 Promises to Keep (2010) aka The Love Verb
This touching story is centred around two very different sisters. The vivacious Callie has a settled, happy life with her husband and two children and pursues her passion for photography. The free-spirited Steffi, a vegan chef, is just about ready to quit her latest job and boyfriend, and take up the offer to live in a country home nearer her sister. And it seems the chance to be close to family is never more timely.
With Green inspired to write this book after a friend's illness, it is a tearjerker but the way she weaves the story ensues it never becomes unbearably traumatic. It's definitely her most soulful book to date.

---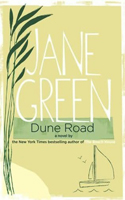 Dune Road (2009) aka Girl Friday
Kit has just divorced banker Adam and is trying to figure out who she is at 40. She moves into a new house in Highfield, Connecticut, with her two children Tori and Buckley. One day her erratic neighbour Edie shows up to welcome them to the neighbourhood and gives her an offer of a lifetime - working for bestselling author Robert McClore. Robert has been hiding out on his huge estate since the death of his wife decades ago. It has always been a mystery what happened the night his wife fell off a yacht. Then a long-lost sister arrives from England which turns Kit's whole life upside down. Meanwhile her best friend Charlie discovers she's been hit by the financial meltdown, and her other friend, yoga teacher Tracy, is hiding a secret. (CG)

---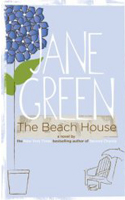 The Beach House (2008)
As a fan of Jane Green's books, I was worried that this one wouldn't interest me because it centres around a 65-year-old widow. But I am happy to report that Green ensures Nan - the free-spirited woman who lives in a ramshackle house atop a bluff in Nantucket - shares the storyline with a number of other characters. When Nan finds her savings are running out, she decides to rent out rooms for the summer. Her guests include Daniel, who has finally worked up the courage to leave his wife Bee; and Daff, a divorced mother who's finding it hard to handle her attention-seeking teenage daughter Jess. Even Nan's son Michael, a jeweller, comes home to escape a risky love affair. But as they settle in, there is one more visitor to come who will really shake up the happy household.

---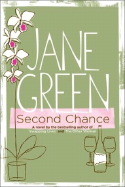 Second Chance (2007)
When Tom is killed in a terrorist attack on a train, his death brings together a group of friends that haven't seen each other for 20 years. Holly is now not-so-happily married to pompous lawyer Marcus and has two young children. Saffron is a small-time actress still waiting for her big break - and for her secret boyfriend, actor superstar Pearce, to leave his wife.
Freelance journalist Paul is married to successful businesswoman Anna, but they are desperately trying to have children. Olivia works at an animal shelter and is still getting used to being single after her long-time lover left her. It seems even in death, Tom's influence over his friends is far from over. Holly finds herself drawn to his younger brother Will; Olivia goes on a blind date with one of his American colleagues; and Saffron has to face up to her addiction. Will Tom's tragic death help them find the strength to make a fresh start - and rediscover the power of friendship?

---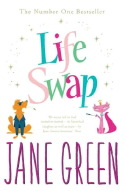 Life Swap (2005)
Vicky Townsley, features director of Poise magazine, is single, 35, lives in London and has fallen for a womanising TV star. She wants to try out a different life so in a competition she picks out Amber Winslow to swap lives with her. Amber is a married mother of two who lives in Connecticut and leads a competitive social life in the Women's League. Each will live in the other's shoes (including wearing their clothes) for a month. Is the grass really greener on the other side?

---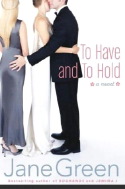 To Have and To Hold (2004) aka Spellbound
Alice is a successful caterer in England who has always dreamed of living in the country and having children. She sacrifices her dream when she reconnects with her schoolgirl crush, Joe. Joe turns out to be a philandering snob who is only interested in transforming Alice into a glamorous trophy wife.
After years of marriage, Alice eventually starts to question her unhappy life with her husband. When he is transferred to the US, Alice finally begins to blossom. As a Jane Green fan, I expected to love this book, however, I felt that while Green did a fantastic job developing the character of Joe, the main character Alice had little depth and was portrayed as a malleable wallflower who constantly turned a blind eye to her husband's cheating. (AO)

---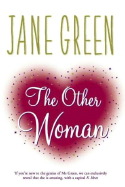 The Other Woman (2004)
'There were three of us in the marriage.' Ellie can't seem to push Princess Diana's words out of her mind but in her case it's not a mistress but a family matriarch. Ellie's mother died when she was young and she has a distant father so her marriage to Dan Cooper is her opportunity to forge new family ties. Dan's mother, Linda, starts out as the perfect mother but her meddling soon turns her into the mother-in-law from hell. And the arrival of baby Tom only escalates the tensions.

---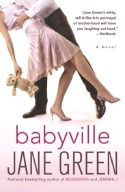 Babyville (2001)
This is a tale of two women coping with the chimes of their biological clocks and another who is trying her best to ignore hers. TV producer Julia heads to New York for a break from her boyfriend, Mark, and their baby-making problems. For her best friend, Sam, the arrival of baby George has brought her exhaustion and marital strife. Will an affair with someone else's sexy husband be the answer? Maeve, who takes over Julia's job, gets nauseous at the thought of having children but soon is dealing with an unexpected reaction to an unexpected pregnancy.

---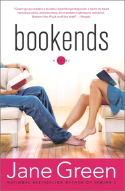 Bookends (2000)
Cath, Si, Josh and Portia were best friends in college. Fast forward 10 years and Catherine, Si and Josh are still best friends living in London. Cath, the narrator of the story, is described as frumpy and insecure. Si is a witty gay man constantly in search of the perfect partner and Josh is happily married to fun-loving Lucy. Cath, who is miserable at work, jumps at the opportunity to open Bookends, a bookstore/cafe, with Lucy.
James, a handsome realtor who helps Cath and Lucy set up their venture, pursues Cath. But because of a previously bad relationship, she is initially opposed to getting involved. Meanwhile Portia, now a famous television writer, shows up at Bookends grand opening and her ulterior motives immediately become evident to Cath and Si. Constant drama surrounds the friends as the relationship between the group is put to the test. This novel felt a bit like reading the plot of a confusing Friends episode. (AO)

---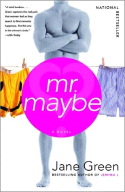 Mr Maybe (1999)
Libby Mason is looking for The One. She's not sure she's found it in her boyfriend Nick, an attractive but struggling wannabe author who lives in a grotty bedsit. Then Libby finds herself being pursued by investment banker Ed, who is not so attractive but lives in a mansion. She gets engaged, convinces she can fall in love with him. What happens when your head says one thing, but your heart says something else?

---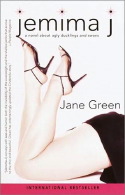 Jemima J (1999)
Jemima Jones is an overweight reporter on a local English newspaper. In lust with her charming but out-of-her-league colleague Ben and mistreated by her social-climbing flatmates, Jemima escapes to the internet where she reinvents herself as the sexy and thin JJ. She gets involved in a long-distance romance with LA gym owner Brad and sends him an altered photo of herself. But when he decides he wants to meet her in person, Jemima has to start exercising and dieting so she can look like the woman he expects.

---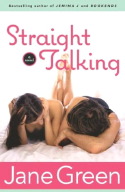 Straight Talking (1997)
TV producer Tasha is still in therapy after her boyfriend, Simon, broke up with her. Three years later, he rings her morning chat show for a Love Betrayals segment, where he reveals that he did in fact cheat on her. Tasha's latest love affair has also just ended, after she moved her toothbrush into the guy's house. And her next lover makes it quite clear he isn't looking for a relationship. The only man she can depend on is friend Adam, until he admits he wants more than just friendship. With lots of advice from her three girlfriends, Tasha investigates whether lust or love is more important.