MOVIE NIGHT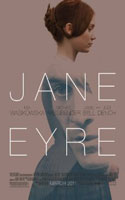 JANE EYRE (2011)
Jane Eyre is one of the original chick lit novels. How many of us as young readers were carried away by the idea of the plain governess attracting the notice of the tempestuous lord of the manor? Certainly many romance novels have been inspired by that theme. But while bodices may be wildly ripping in those copycat stories, nothing so untoward ever happens in Jane Eyre, book or movie. In the latest film incarnation of the Charlotte Bronte novel (there have been many, going back to the version with Orson Welles in 1943, and including a 1996 Zeffirelli version with Anna Paquin, William Hurt and Charlotte Gainsbourg), a not-quite-beautiful and very understated Mia Wasikowska plays Jane Eyre, and the relatively unknown, at least in my American eyes, Michael Fassbender plays Rochester. As a matter of fact, the only very recognisable actor in this 2011 version, directed by Cary Joji Fukunaga, is Judi Dench, who plays Rochester's housekeeper, Mrs Fairfax. The desire that hovers just below the surface for Jane and Rochester is palpable, delicious, tantalising.
As usual, I sat down to watch the DVD with my poor, long-suffering husband who is often subjected to my chick flick picks, and he was instantly confused by the flash forwards and flashbacks with which the film begins and which last for the first 20 minutes or so. And though I haven't read the novel for many years, I've read it enough times to be able to explain to him what was happening. That said, if you haven't read the book, you might be confused by the first part of the film. But stick with it. For soon thereafter, everything becomes clear, and besides, I don't know how you will be able to look away from the gorgeous scenery and enchanting cinematography. And every performance is excellent. Director Fukunaga obviously understands the novel intimately enough to be able to draw exactly the right levels of passion and restraint from his actors, so much so that the desire that hovers just below the surface for Jane and Rochester is palpable, delicious, tantalising. I was on the edge of my couch whenever they spoke to each other, even though Fassbender is not really what you'd call a hottie.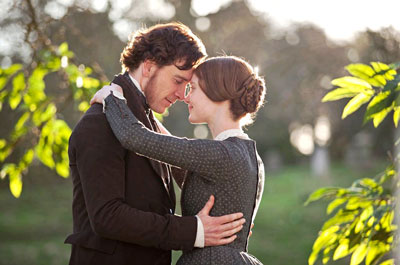 The director knew to rely on the leading man's soulfulness, not needing a Colin Firth or Colin Farrell or any other Colin. Fassbender is downright odd-looking, but you understand Jane's deep love for him as certainly as you feel his yearning for her. This tale is Gothic fiction embodied. It's got it all - the windswept hinterlands, the tragic orphan, the troubled solitary gentleman with a terrible secret, the spooky castle with the strange, haunting sounds emanating from a hidden room ... and the semi-tragic ending. And speaking of the ending, it always slightly bothered me in the book. I always thought Mr Rochester ultimately lost too much of his sex appeal, and I was fairly disappointed to see that the same is true in the movie. I mean, I'm a firm believer in the film following the book closely, but this time I really wanted Rochester to end up looking less homeless. Call me shallow. However, all in all, this is a beautiful film and an eternal story. Curl up with it on a rainy night and get swept away through the heath on the moors. What chick among us doesn't love that?

Movie reviewed by Georgina Young-Ellis
---
---