INTERVIEW
April 2010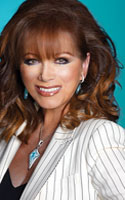 With more than 400 million copies of her books sold worldwide, Jackie Collins gives readers an insider's glimpse into Hollywood lives. Her latest release, Poor Little Bitch Girl, is her 27th novel since her first title, The World is Full of Married Men, was released in 1968. Many of her books have been made into film and TV. The British-born "Queen of Steam" lives in Los Angeles. (Interview by Annmarie Ottman)
1. In Poor Little Bitch Girl, one of the characters has a relationship with a married senator. Were you inspired by real life scandals?

Absolutely! The headlines were full of cheating married politicians, and so Gregory was an easy character to write. Like most men in politics - he felt entitled to do whatever he felt like with no consequences.

2. Denver Jones is an intelligent attorney who enjoys having sex. Do you think there is a still a double standard for female characters in contemporary novels?

Denver is true to herself. She's single and like any guy out there, she's quite free sexually. My belief is if you're single and take the right precautions - go for it!! Women love my strong female characters.

3. Will readers see more of Denver Jones and Bobby Santangelo in the future?

Yes. They will both be back in my next book, Goddess of Vengeance. My readers are loving the relationship between the two of them. And they are all crazy about Bobby - Lucky's hot son.

4. Your novels give readers a look into the scandalous life of Hollywood. Do you think there is as much sex, lies, corruption and scandal in small towns?

Oh yes, but they keep it well hidden, whereas in Hollywood it's headline news ... with everything from TMZ to Access Hollywood, nothing is a secret anymore. As for small towns - yeah - lust and corruption under cover!

5. What is it about Hollywood that makes it so hard for couples to stay together?

Fame corrupts some people, and makes them feel they can do anything and get away with it. Also temptation is everywhere, and a lot of couples find cheating on their partners too easy to resist.

6. Tell us about the movie you are producing, Paris Connections. And is there a Lucky movie on the way?

Paris Connections is set in Paris, and stars one of my fave heroines, Madison Castelli (Lethal Seduction and Deadly Embrace), played by Nicole Steinwedell. Madison is a strong, feisty journalist investigating the murders of two models. And then she falls in love with Jake - a photographer, played by the very sexy Anthony Delon. Regarding a Lucky movie - it's in the works!

7. Your fans range so much in demographics. How do you stay so connected to them all?

I am a popular culture junkie, and I also love staying connected through my Twitter (jackiejcollins), Facebook (www.facebook.com/jackiecollins), and website (www.jackiecollins.com). Kids start reading me at age 15 - and I also get the rest of the family! I write for everyone - all colors, ages and sexual orientation.

8. Do you have a 28th novel in the works?

Goddess of Vengeance - the continuing adventures of Lucky Santangelo.

9. With some many books under your belt, do you still feel nervous when a new book is released?

Not nervous - elated! And I love getting out there and talking about it. Poor Little Bitch Girl jumped right on to the New York Times bestseller list, so that was exciting!

10. Can you see yourself ever retiring from writing?

Never! It's my total passion.

11. Which reality TV show would you most like to appear on?

"Survivor." Just to test myself.

12. If you could invite three characters from your books to dinner, who would you invite? And which character would you definitely not invite?

Lucky Santangelo - 'cause she's so dynamic and fun. Jack Python - the sexy talk show host from Hollywood Husbands. And Montana Grey from Hollywood Wives - another strong woman. And the character I wouldn't invite ... Red Diamond from Lovers & Players, a total chauvinistic asshole!!
---
---