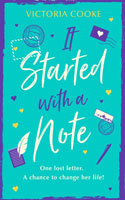 It Started With A Note, by Victoria Cooke, sees an empty-nester head off to France to delve into her family history. The summary says: "One lost letter. A chance to change her life!
Superhero single mum Cath always puts other people first. But now that she's seen her son safely off to university (phew!), life seems a little, well ... empty.
So when Cath unexpectedly discovers some letters written by her great-grandfather during the First World War, she decides to take herself on an adventure to France to retrace his footsteps.
Cath expects to spend her holiday visiting famous battlefields and testing out her French phrase book. What she doesn't anticipate is that her tour guide, the handsome Olivier, will be quite so charming! Soon Cath isn't simply unearthing the stories of the past - she's writing a brand new one of her own, which might end up taking her in a very unexpected direction." It Started With A Note is out in December 2018.
TEXT