INTERVIEW
April 2010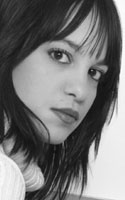 ISOBELLA JADE
Isobella Jade has written a memoir about her life as a petite model, Almost 5'4". She also gives modelling advice on her blog and has written a graphic novel called Model Life: The Journey of a Pint-Size Fashion Warrior. (Interview by Paula Phillips)
1. Describe your childhood home.

I grew up in a suburb outside of Syracuse, NY. I grew up climbing trees, making mud pies, and jumping in the fall leaves. When I was growing up Vogue, models, and fashion were not in my vocabulary. I played in the sandbox, I had braids, a side ponytail and Punky Brewster and I would have been sisters if you considered my mismatched funk in how I dressed.

2. What did you enjoy doing as a child?

From around age 12 through high school I was a cross country and track runner and I was very competitive. My childhood was in muddy sneakers. I didn't start wearing high heels as a daily routine until I stopped running competitively and I moved to New York City for my sophomore year of college at New York Institute of Technology while studying advertising, - it was around then that I started to pursue another challenge - modeling. Running shaped my character to love to be competitive, to have the confidence to face a challenge and to understand the rewards of working hard and training and striving for a goal. Which was a mindset that I put towards my modeling pursuits.

3. What inspired you to write your book?

I had been writing in a journal while going through the highs and lows of making yourself a model and actually it was a lot of my early modeling mistakes that inspired me to write about my journey as a shorter model. I wrote Almost 5'4" for myself as a closure, and I enjoy writing to keep memories. Also I didn't want to write a book just about the success I found, we have all heard that model story before, I wanted to share a present day, internet-age, grabbing your bootstraps and striving even when the odds are against you-type story. I also was confronting my own past, my own evolution and how I had experienced a lot of self-growth while striving as a model. The journey within Almost 5'4" is really about chasing what you want, trying to do something difficult and not settling.

4. How did your book deal come about?

I first wrote Almost 5'4" when I didn't have a computer, I had given up my apartment, and was living out of a suitcase, bouncing around from friend's couch to friend's couch, and I didn't have a computer. I ended up using the display computers at the Apple Store as my office. I had already been using the store to check emails so now the store's computer displays would become my writing desk as well. I first self-published and self-promoted Almost 5'4" and then I hooked up with The Friday Project, an imprint of HarperCollins UK, to make the book available in other regions around the world.

5. What are you working on now?

I am also the author of a fashion illustrated graphic novel called Model Life: The Journey of a Pint-Size Fashion Warrior, illustrated by Jazmin Ruotolo, which I am planning to turn into a series. I am also working on a modeling handbook for girls of all sizes, and writing a collection of modeling stories that took place after Almost 5'4".

6. How have you enjoyed doing publicity?

These days the biggest asset of any author is being a marketer. Whether you self-publish or work with a large publishing house, the self-marketing never ends. Being an author has proved to me that self-promotion can work and if you invest the time, know yourself and product and target it to people who care about the topic and content you can be your own publicist. It does take a lot of research, time, energy, and it is neverending but crucial to build a business around yourself.

7. Since writing the book, have you had more modelling opportunities because of it?

Writing and publishing Almost 5'4" has indeed helped my recognition. Being featured in The New York Times and The New York Daily News and The New York Post and many others is awesome, but it has also come from being active within my own marketing as well. The majority of the press I've gained has come from myself promoting myself, my book and brand. I have gained many modeling jobs since writing Almost 5'4" (even leg modeling for Victoria's Secret and shoe modeling for Marshalls and Easy Spirit campaigns), but mostly these jobs have come because I am a professional model and working with great modeling agencies, and I have built my portfolio for many years. I still enjoy modeling, and now I advocate daily on my blog, pod cast radio show Model Talk and social media about how girls of all sizes can get ahead.

8. What was it that drew you to modelling ?

At first it was a curiosity coupled with wanting an ego boost. I made a lot of early modeling mistakes which are featured in Almost 5'4". When I realized modeling has a lot more to do with the mind, and your mindset than the outward appearance, I started marketing myself better and to agencies with professional photos. At the early stage of modeling I didn't know that models were all shapes and sizes, however while I was striving it appeared that What a Model Looks Like had also changed with how advertising has changed. There are more different types of brands out there using different types of models, more products, and more humanistic models used. It only inspires me more, to model and also advocate about it.

9. What are some favourite

a) colours: I love grays, greens, tans, maroon, earth colors mostly.
b) ice-cream: Mint chocolate chip sounds good.
c) book: I love reading biographies and non-fiction mostly, I've enjoyed reading books from Jonathan Ames, Malcolm Gladwell, I enjoyed Axel Madsen's Chanel: A Woman of Her Own, and Half Broke Horses by Jeannette Walls.
d) movie: Some Like It Hot, Seabiscuit and Great Expectations.
e) song: Frank Sinatra's I've Got You Under My Skin, and Juicy by Notorious B.I.G, Don't Stop Believing by Journey - I know very different but I have very eclectic taste in music.

10. If you had to have dinner with any three famous people dead/alive, who would you choose?

Seabiscuit, Chanel, Andrew Carnegie, my favorite shorter underdogs.

11. Tell me about a memorable moment in your life.

When I went to Rome with my now fiancé.

12. What is something that you are really proud of?

I am proud that I can use my own experiences to help others with theirs. I am proud I've tried and continue to each day. There is possibility found if you give yourself a chance.

13. What advice do you have for other smaller girls wanting to get into modelling?

No matter your height think bigger about the word model. Models are needed to "model for something" and while you might not be on a runway there is A LOT more to modeling than walking on a runway. Models of all sizes are using their personality and what they naturally DO have to model products of all types. Most products out there are not high fashion products. Just watch commercials, look through a lifestyle magazine. Notice that there are models modeling products of all ages, sizes and types. So once your mindset is set towards what you CAN model for, you should focus on creating photos that will get you these opportunities, and submit to the right agencies. Creating with a professional photographer a headshot, close-up beauty shot and few full body shot showing your smile and personality are the first things to create. Being ambitiously realistic is key!
---
---