Emma is doing a great job raising her two young children – as well as often taking care of her ex-husband Troy's daughter, who was born within days of Emma giving birth to their own daughter. Emma's sister and others think Troy and his new wife Helen – a Pilates instructor - are taking advantage of her but she just wants the best for all the kids. Meanwhile Emma, a freelance book editor, is waiting for her star client to deliver her latest memoir and also has her eye on one of the school dads.
Focused on the trials of co-parenting, this debut novel is a wonderfully observed tale that is both amusing and relatable. Emma is a great character you'd love to have as a friend and it was a joy watching her learn to stick up for herself and cut herself some slack.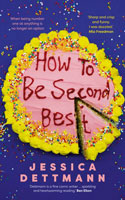 Jessica Dettmann's debut novel, How to Be Second Best, captures the dramas, delights and delirium of parenting.
The summary says: "Going from one child to two is never all that easy for a family, but when Emma's husband simultaneously fathers a third child three doors up the street, things get very tricky, very fast.
No longer is it enough for Emma to be the best wife and mother - now she's trying to be the best ex-wife, and the best part-time parent to her ex's love child, and that's before she even thinks about adding a new bloke to the mix.
Set in an upwardly mobile, ultra-competitive suburb, this is a funny, biting, heartwarming modern comedy that looks at the roles we play, how we compete, and what happens when we dare to strive for second-best." How to Be Second Best is out in December 2018.