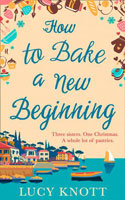 How to Bake a New Beginning, the debut novel by Lucy Knott, is centred around three sisters who take a trip to Italy.
The summary says: "Amanda has always taken the role of big sister seriously. She has her life in order; a fantastic job in a great restaurant, a wonderful house and a best friend who's a rock star. But Amanda's beginning to realise that her life is missing one monumental piece...
Sabrina is living the high life in LA. Her Instagram is full of lavish parties, her tweets are brimming with celebrity names, but in reality she's stuck behind a desk working for a boss who is determined to make her suffer. Is it time for her to stand up and take charge of her life?
Louisa has always been drowned out by her sister's successes. As the university drop-out she's always felt third best. But a chance encounter in a little Italian village may be about to change that...
When their beloved grandfather passes away, these sisters are forced to take another look at their lives. These three sisters are about to embark on a journey of self-discovery that could just lead them down a road of romance (with a little help from the kitchen)!" How to Bake a New Beginning is out in September 2018.
TEXT